Dental Filling Types & Procedure in Mumbai
A filling is a way of restoring a tooth damaged by decay, helping it come back to its normal health, function and structure. In simple words, the removal of decayed tooth material, cleaning of the affected area, followed by filling of the cleaned out cavity with a filling material is the summary and explanation of DENTAL FILLING. By sealing spaces from where bacteria can enter, a filling helps impede the further decay of the affected teeth. The list of materials used as fillings consist of gold, porcelain, a composite resin (tooth-colored fillings), and an amalgam (an alloy of mercury, silver, copper, tin and sometimes zinc). Cavities feed on excessive plaque [a sticky bacterial film which accumulates on the teeth.] When you consume foods or drinks that contain sugars, the bacteria in plaque produce acid which, in a period of time break down your tooth enamel, constructing holes called cavities. FACT: Cavities do not heal by themselves and must be filled by a dentist. Not all of us have a medical background or the complete know how of the treatment and it is honestly very natural to have interrogative thoughts regarding the treatment like, Will the filling procedure hurt?, What will happen during the procedure?, How long will it take to fill a cavity? and many more and hence here are some answers to your questions.
What is dental filling?
Dental fillings are an artificial material that are used to fill in the holes or gaps within the enamel of decayed or damaged teeth. To treat a cavity a dentist removes the decayed portion of the tooth and then "fills" the area on the tooth where the decayed material was once present. Also used to repair cracked or broken teeth that have been worn down from misuse (such as habit of nail-biting or tooth grinding, Dental fillings are needed to protect the shape and stability of the tooth for ease of chewing and for prevention from further damage, decay and loss of the tooth. Cases of dental filling can be categorized on the basis of the following situations:
Tooth decay : In order to protect holed in the enamel of the teeth by filling them with the objective of safeguarding the inner pulp of the teeth where the blood vessels and nerves are contained.
Injured or broken teeth where enamel has chipped off, exposing the tooth to high probability of getting decayed.
Restoration of worn out or eroded teeth.
Why do you need dental filling?
If you have symptoms of pain in your teeth or in your gums then these are symptoms of the presence of cavities in your teeth. Depends on the extent of your tooth decay, cavity pain can be excruciating at times and are a major reason for cases of cavity filling. Regardless if your cavity symptoms are mild or severe, you must visit your dentist and get yourself checked to initiate a step towards pain relief because the checkup will determine the severity of your case and if you may or may not need a dental filling. There are three forms of cavities dental decay may cause:
Coronal cavities:

The is the most common type of cavity.
It is located on the chewing surfaces or between the teeth.
Common found in both children and adults.

Root cavities

Gums recede with age, leaving parts of our tooth roots open.
Absence of enamel covering tooth roots, these exposed areas are most susceptible to dental decay.

Recurrent decay

Located around the existing fillings and crowns
Is a result of accumulation of a build-up of plaque.
When would you need a dental filling?
Dental filling is a need which born purely out of the result of cavities in our teeth. Cavities, its depth, impact and its severity is what determines how immediately or when you would actually need a dental filling. Dentists at Sabka dentist have the experience in helping you by guiding you and explain to you of the steps which could be taken as per your requirement and what suits you best , dentist can detect whether you have a cavity that needs to be filled. During a checkup, the experts will use a small mirror to examine the surfaces of teeth. Anything that looks abnormal will be closely evaluated with special devices. Your dentist may take
X-ray
of your mouth or a section of it if needed. Yet again it is important to remember that the type of treatment your dentist chooses depends on the extent of damage caused by decay.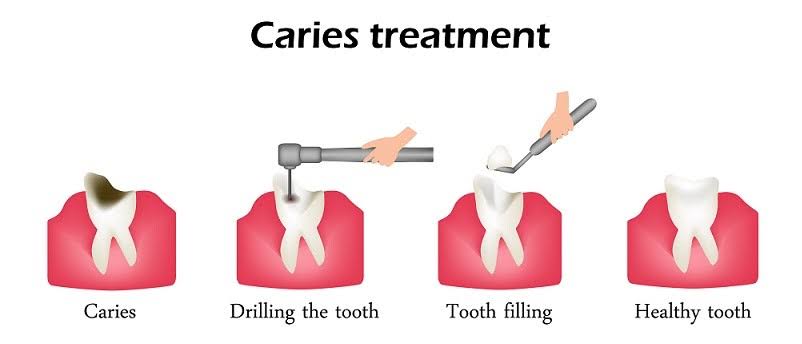 Is dental filling a painful process?
The procedure of typical dental filling hardly takes about an hour. If you have several cavities that need to be filled, your dentist may treat them over multiple visits. Since a filling is a common and relatively simple procedure, it doesn't take very long to complete. Before beginning the procedure the dentist takes a few steps to minimize the sensation of pain that you might feel during the treatment. Starting off by application of a local anesthetic to numb your gums and parts of your mouth in and near the area of treatment, keeping you conscious during the procedure and, enabling you to interact and communicate with your dentist throughout. You may still feel a bit of a stinging sensation when your dentist injects the anesthetic over the numbing gel, in fact you will be curious to know that the sting you feel isn't from the needle but a mere sensation created by the anesthetic as it numbs your gums and mouth. After receiving a filling in your teeth, you may experience some soreness or tooth sensitivity, which can last up to a few hours or even days altogether after the procedure. Actually tooth pain after getting a filling done, is not unusual.
Tooth sensitivity
: A filling which is just placed in a tooth will be more sensitive to
hot foods
cold foods
air temperature
And the pressure of biting.
At Sabka dentist commit towards the comfort and needs of our patients, will provide with recommendations and dos and don 'ts which must be followed by the patient for maximum care and minimum pain.
What is the cost of dental filling?
After a thorough check on what are the places to be tackled for filling, the dentist will discuss the charges with consent to your understanding of how many teeth you want to get your dental filling done. The charges can be discussed with the dentist one on one; however, scaling and polishing range in the budget of Rupees 500 to 1500/- again, depending upon the deposits, if you want to get a cavity filled.
Who is the best for dental filling?
Establishing its feet as India 's first and only chain of Dental clinics, Sabka dentist has worked relentlessly as a brand which believes in being a help to one and all. Being a platform of world class treatment, easy on the pocket, convenient and "Sabka"
chahita
we believe in the principle of "nothing less but giving our best " to be our prime motto. Offering the best of what we at Sabka dentist is the potential and scope of a better and happier you, smiling your way to leading a healthy lifestyle. Sabka dentist welcomes you for all your dental problems with open arms, from extensive dental help to treatment and cure for the detected problems and issues, from having an organized and extensive set of oral healthcare services to the most hygienic and updated dental tools we are equipped to provide affordable healthcare of the highest quality. As far as dental filling is concerned our team of experts will be at your disposal from the start to the finish of the procedure, ensuring your comfort and conscious understanding throughout the treatment.
How much time does it take for a session of dental filling?
The amount of time occupied for the treatment depends on your condition, and how many teeth are supposed to be filled in the process. However, a session of single filling has the duration of typically an hour. And the speed of the treatment can be estimated to be: 1 hour= 1 filling
Sabka Dentist Clinics for Dental Filling in Mumbai
Address:
5, Gr Floor, Vasant Village, Behind Vora Medical Opp. Jaslok Farshan, Near Andheri Rly Station SN Rd, Sampada Society, Andheri East, Mumbai, Maharashtra 400069.
Phone:
8291819546
Address:
Flat No: 202/B-3, Greenland CHS Ltd, Near ICICI Bank, Opp Bagerker College, Next to Jyoti Restaurant, J.B. Nagar, S B Singh Colony, J B Nagar, Andheri East, Mumbai, Maharashtra 400059.
Phone:
8291849551
Address:
Shop No-2A, Takshila Bldg. No-29 CHS, Opp. Model Town and Apollo Garage Near ICICI ATM and Pearl Residency, Takshila, Takshila Colony, Indira Nagar, Andheri East, Mumbai, Maharashtra 400093.
Phone:
8291819559
Address:
Shop no. – 14, Ground Floor, Madhav Nagar Building Behind Merwan 's, Opposite Bank of Baroda Next to Bus Depot, Swami Vivekananda Rd, Andheri West, Mumbai, Maharashtra 400058.
Phone:
8291819548
Address:
Shop No-2, Atlantis Building, Near 7 Bungalows Garden, Opp. HDFC Bank, Next to Monalisa Saloon, J. P. Road, Aram Nagar Part 1, Aram Nagar, Versova, Andheri West, Mumbai, Maharashtra 400053.
Phone:
8291819558
Address:
Shop No-45, 1st Floor, Gopal Mansion, Above Janta Book Depot, Near Bandra talaav and PWC Building, Gurunanak Road (Station Road), Bandra, Bandra West, Mumbai, Maharashtra 400050.
Phone:
8291819551
Address:
Shop No 4, Ground Floor, Sada Smruti Tower CHS Ltd, Opp Maxus Mall, Next to Ribbons and Balloons Temba Road, Geeta Nagar, Bhayander West, Mumbai, Maharashtra 401101.
Phone:
8291849547
Address:
Shop No-13, Gr Floor, Goverdhan Nagar 41 Wing Poisar Gymkhana Road, Kandivali ( West) Mumbai 400067.
Phone:
8291819542
Address:
Gr Floor, Saraswati Niwas, Near Laxmi Chaya Building, Near Deepak Hotel, Eksar Road, Babhai Naka, Borivali (W), Kamdhenu Society, Borivali West, Mumbai, Maharashtra 400092.
Phone:
8291819544
Address:
Shop no.4, Nimesh Kunj, Opp Jain Mandir, Mandpeshwar Road, Near Gokul Hotel, Borivali West, Mumbai, Maharashtra 400092.
Phone:
8291819552
Address:
Shop No 6 Sunny Estate building no 2 Sion Trombay Road, Near to IDBI bank, Opp Dena Bank, Near to Diamond Garden, Chembur East, Mumbai, Maharashtra 400071.
Phone:
8291849549
Address:
Shop No 2, Daulat Shirin CHS Ltd, Near Colaba Post Office, Opp. to Baptist Church, 31 Colaba Road, Cuffe Parade, Mumbai, Maharashtra 400005.
Phone:
8291849562
Address:
7-A Sarvodaya Bhuvan, Opp. Apna Bazar, Beside Anugraha Restaurant, Gokhale Road (North), Bhawani Sankar, Dadar West, Mumbai, Maharashtra 400028.
Phone:
8291849566
Address:
Shop No 1, Near Canara Bank, Behind Bhatla Devi Mandir, S.V.Road, Dr. Ambedkar Udyan, Maratha Colony, Dahisar East, Mumbai, Maharashtra 400068.
Phone:
8291849546
Address:
Shop No 16, Ground Floor, Orbit Grand Rehab C – Wing, N.M.Joshi Marg Opp: BMC Office G-South Ward, West, Fitwala Rd, Elphinstone, Saidham Nagar, Parel, Mumbai, Maharashtra 400013.
Phone:
8291846933
Address:
Shop no 1 Ground Floor Megh Ratan CHS. Ltd Junction of Tilak Road, and, Derasar Ln, Ghatkopar East, Mumbai, Maharashtra 400077.
Phone:
8291819578
Address:
B-105, 1st Floor, Bhaveshwar Plaza, Opp. to Shreyas Cinema, Next to Sapna Hospital, L.B.S Marg, Nityanand Nagar, Ghatkopar West, Mumbai, Maharashtra 400086.
Phone:
8291849553
Address:
Shop No-1, B-Wing, Satellite Garden 1 CHS, Near Gokuldham, Ridhhi Gardens, Gen. A.K. Vaidya Marg, Azad Nagar, Gokuldham Colony, Goregaon East, Mumbai, Maharashtra 400063.
Phone:
8291819557
Address:
Shop No-10 Anand Vatika Society, Next to ICICI Direct Opp. Mcdonalds Restaurant, S.V. Road, Siddharth Nagar 4, Shri Nagar, Goregaon West, Mumbai, Maharashtra 400062.
Phone:
8291819554
Address:
Shop No-4, Vasant Utsav Rangoli Building, Near Southern Treat Hotel, 120 feet Road, Thakur Village, Kandivali East, Mumbai 400101.
Phone:
8291819545
Address:
Shop No-21, Gr Floor, Raj Heights CHS, Near Dominos, Opp. Shivsena Office, MG Road, Kandivali (W), Gaothan, Bohra Colony, Dahanukar Wadi, Kandivali West, Mumbai, Maharashtra 400067.
Phone:
8291819543
Address:
Shop No-14, Shree Datta Krupa CHS, Opp. to Voltas House, Dr. B. Ambedkar Marg, Lalbaug, Chinchpokali, Mumbai, Maharashtra 400012.
Phone:
8291819579
Address:
Shop no: 4, Karambhoomi Building, Mori Road, Near Mahim Church and, and TV Town Electronics, Opp. Makhdoomi Hotel, Mahim (West), Mahim, Mumbai, Maharashtra 400016.
Phone:
8291819553
Address:
Shop No 3, Dhiraj Apartment, Poddar Road, Near Goal Garden, Primal Nagar,, Malad East, Mumbai, Maharashtra 400097.
Phone:
8291819576
Address:
Shop No 2, Darshan House, CTS no 834, Mamlatdarwadi main road, Malad (west), Mumbai 400 064.
Phone:
8291819541
Address:
Shop No-13, Saifee Park Building – C, Opp. Mazagaon Post Office Dr. E. Mascharenhas Marg, Mustafa Bazar, Mazgaon, Mumbai, Maharashtra 400010.
Phone:
8291819577
Address:
Shanti Plaza, Shop No 16, Ground Floor, Bldg No S/1 Opposite to Sector 5, Sector 11, Shanti Nagar, Mira Road East, Mira Bhayander, Maharashtra 401107.
Phone:
8291849548
Address:
Shop No-10, Gala Kunj Apartments, Opp. Vani Vidyalaya School, Next Khotari Sweet, J. N. Road, Mulund West, Mumbai, Maharashtra 400080.
Phone:
8291819580
Address:
Shop no 3, Martin Commercial Complex, P2, Pocket Of Group Housing Scheme, Village Achole, Tal: Vasai, Yashvant Viva Twp, Nalasopara East, Thane, Maharashtra 401209.
Phone:
8291846938
Address:
Shop No 12, Oshiwara Ekdant CHS Ltd, Next to Great Home Super Market, Opp. Mohan Medical, Andheri Link Road Extension, Mhada Lay-Out, Oshiwara, Jogeshwari West, Anand Nagar, Andheri West, Mumbai, Maharashtra 400102. Phone: 8291846937
Address:
Ground Floor, IOC Petrol Pump,, Opp. IIT Mumbai Main Gate, Powai, BSNL Colony, Powai, Mumbai, Maharashtra 400076. Phone: 8291819560
Address:
13, Jayant Apt., Opp. ICICI Prudential Building, Near Century Bazar, A.M. Marg, Prabhadevi, Century Bazaar, Prabhadevi, Mumbai, Maharashtra 400025. Phone: 8291819547
Address:
Shop No 2B, 311 Vidyanagari Marg Near General Hospital, Next Bhatta Medical Store, Kolivery Village, Vidya Nagari, Kalina, Santacruz East, Mumbai, Maharashtra 400098. Phone: 8291849552
Address:
Shop No. 9, Sujata Rajpipla CHS Ltd, 27-C, Opp. Santacruz Police Station, Juhu Road, Santacruz West, Mumbai, Maharashtra 400054. Phone: 8291819549
Address:
201, Bansari Bhuvan Building, Ground Floor, Sion Main Road Next to Union Bank of India, Opposite Domino 's Pizza, Sion East, Sion, Mumbai, Maharashtra 400022. Phone: 8291819556
Address:
Flat G-07, Minal Apartment, Opp. Navin Thakkar Hall, Shradhanand Rd, Navpada, Vile Parle East, Vile Parle, Mumbai, Maharashtra 400057. Phone: 8291819550
Address:
Shop No.1, Empire House, S.V. Road, Opp. Irla Petrol pump, Irla, Vile Parle West, Mumbai 400056. Phone: 8291819540
Address:
Bldg no 11, A Wing, Ambo Patil Estates, Near Banjara Hotel Above Canara Bank, Opp. Reliance Smart, Tirupati Nagar, Virar West, Maharashtra 401303. Phone: 8291849557