If you ensure you get at least one pic for your social media like the 'gram' or are obsessed with filters, backgrounds and the perfect shots to upload, you are not alone!
Whether on Facebook or Instagram, most people try to get a photo with ideal hair, pose, makeup, and a smile. But what if your smile is not celebrity-like? Do you crave a flawless smile like movie stars and other celebrities? We've got you covered!
Just like people envy the physique and body of their favourite stars, getting a smile like their beloved celebrity is a dream for many. At SD Align, we have the most suitable solution for you.
Most of your favourite celebrities use the same solution to get that envious smile. From famous royalty like Kate Middleton to talk show host Oprah Winfrey and the oh-so-popular Tom Cruise, several famous people have used clear aligners to get their dazzling, electrifying smiles.
So, if you have been thinking, "How to have a perfect smile" getting that celebrity smile is now not just possible but highly affordable. How? Read on to find out the various aesthetic treatment options available.
How Can You Get A Celebrity-Like Smile?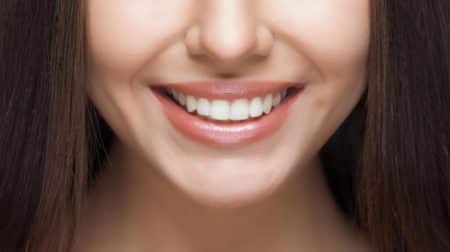 If you spend a significant amount of time looking in the mirror for the perfect angle of your smile or scanning through your phone's photo gallery to find the best photo that hides your smile, we can assure you those days are now behind you with clear aligner treatment. While we focus on our skin and hair, teeth form an integral part of our appearance.
Missing teeth, yellow or stained teeth or irregularly aligned teeth are evident when you smile, talk, and laugh. These teeth abnormalities can make one conscious about their appearance, often affecting their self-esteem and confidence.
Since celebrities and famous personalities are always in the limelight and public eye, they tend to be very particular about their appearance, including their smile. This holds for most people like us. If you look up old pictures of most celebrities, you will realise the changes they have brought about in their appearance.
So, if you have wondered what dental wonders gave your favourite celebrity a flawless smile, we've got you the answers!
Here are advanced dental treatments available for everyone who wishes to get a flawless, well-aligned, enviable smile!
Dental Braces
Have crooked teeth? The most common treatment recommended for crooked or irregular teeth is dental braces. Several types of braces are available today– from conventional metal ones to slightly less conspicuous ceramic, self-ligating braces and lingual braces.
Braces are the most natural way to get well-aligned teeth and a beautiful smile. While metallic braces have been around for decades, they are the most conspicuous ones.
All braces are fixed options during which the brackets are stuck on your teeth' front or back surface, and a wire passed through them brings about their movement. The duration of braces treatment can take anything from six months to two or three years, depending on the case's complexity.
Apart from the poor aesthetics of fixed braces, they are also inconvenient and uncomfortable for most patients.
Clear Aligners
Though ceramic braces and lingual braces are aesthetic, people wanted something that was way more discreet yet comfortable and convenient. Thus, clear aligners came into being!
Clear aligners or invisible braces are transparent trays made from medical-grade polymer and customised for each patient. When worn, these aligner trays are invisible from close distances.
Each set of trays must be worn for 22-23 hours for at least two weeks before switching to the next set. While regular braces apply strong forces in spurts, clear aligners apply smaller, constant forces. Most celebrities and famous personalities often clicked and photographed undergo clear aligner treatment for their discreet appearance.
Clear aligners are removable, and so impose no food restrictions that are common with fixed braces. Due to their removable nature, brushing, flossing and maintaining oral hygiene is effortless with clear aligners.
With brands like SD Align that are made in India, clear aligner treatment is easily accessible and affordable. Treatment with clear aligners may take a couple of months to a year or slightly longer.
Veneers
If you are looking for a quick fix for your irregular teeth, veneers may be the best for you. Many celebrities prefer to opt for veneers instead of braces as the treatment duration is short.
Veneers are thin shells of porcelain stuck on teeth to improve their shape, shade and alignment. They also help manage tooth gaps and rotations and lengthen short teeth. It is natural to wonder, "Should I opt for veneers or braces?" but these treatments have their pros and cons.
While veneers give you a beautiful, stunning smile in a short time, braces and aligners can take slightly longer. However, veneers require some amount of tooth shaping and grinding and involve artificial materials like porcelain that are stuck to your teeth.
Veneer treatment is a sought-after aesthetic dental procedure today, thanks to the illustrious clientele that most cosmetic and aesthetic dentists have. Veneer smile is man-made, and the risk of failed treatments is also well-known.
The goal of veneer treatments should be to create an aesthetic smile and not just a cosmetic one. It is also important to visit a renowned and experienced cosmetic dentist for veneers to avoid failed treatment.
While getting veneers, you must know that they may need replacement every 10-15 years. Since they are thin shells of brittle porcelain, they may crack or break if handled roughly or when the bite is not corrected. Your doctor will also advise you not to bite into hard or sticky foods as they may cause your veneers to break or dislodge.
Crowns and Bridges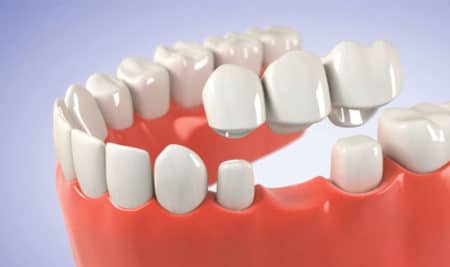 Veneers can treat minor teeth irregularities, but major alignment issues may require a crown or bridge. Crowns are a shell of porcelain or ceramic that helps improve the aesthetics of existing teeth and support weakened ones. Bridges are used to replace missing Implants are an alternative to bridges.
Implants and bridges help beautify smiles by replacing missing teeth and improving bite and function. Though bridges have a high success rate and have been used for decades, implants offer improved aesthetics and good oral hygiene.
Most full mouth rehabilitations and smile makeovers involve crowns, bridges, and veneers, giving you a celebrity-like smile.
Teeth whitening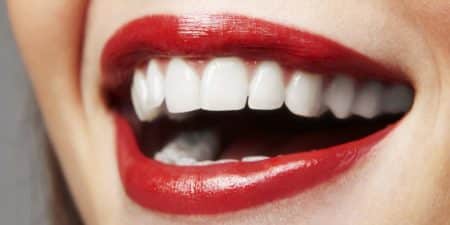 Having a celebrity-like smile is incomplete if your teeth are missing their brightness. For sparkly, pearly whites, teeth whitening is done. Did you know teeth whitening is the most commonly performed aesthetic dental treatment today?
A teeth whitening procedure involves using tooth bleach applied to the teeth in your dentist's office to make them whiter and brighter than their original shade. Teeth tend to get stained or lose their brightness due to food and habits like smoking.
For this reason, teeth whitening must be done once a year or as per your dentist's instructions. While teeth whitening performed by your dentists in their office is most effective, home teeth whitening kits are available too. However, the tooth bleach used in home kits is diluted and may take longer to give you results.
If you feel your teeth are stained or your smile lacks the lustre, ask your doctor about teeth whitening at Sabka Dentist.
If you are ready to flaunt the most beautiful smile in the world, contact our expert cosmetic dentist at Sabka Dentist. Want to get your teeth straightened? Book your appointment with our orthodontist to get your SD Align aligners!