Dental Crowns Procedure and Treatment
Book an Appointment for Free Dental Check-Up
What is a crown for your tooth?
Crown, sometimes known as Cap, is an artificial dental restoration that fits over the remaining part of a prepared tooth or implant. Crowns reinforce the strength of the tooth and imitate the morphology of natural tooth. The crown is bonded to the tooth with help of dental cement.
Why do you need a crown?
Crowns are an ideal restoration for teeth that have been broken or weakened by decay or a very large filling. A crown could be used for many other reasons, for instance:
You may have discoloration and would like to improve the appearance of the tooth
Restore the form, function and appearance of badly broken down, worn or fractured tooth
You may have had a root canal which may need a crown to protect what is left of the tooth
It may help hold a bridge or denture firmly in place
To reinforce a tooth with large cavity.
To cover the dental implant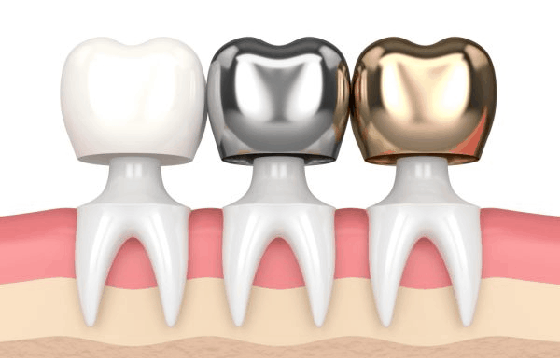 What is the best dental crown material?
Crowns can be made of a variety of different materials and new materials are continually being introduced. Some of the most popular options are listed below:
Porcelain bonded to metal (PFM):These crowns have a hybrid construction where porcelain is fused as a coat over metal. They are highly durable and thermal resistant.
All ceramic crowns: These crowns are made entirely out of porcelain or another type of ceramic. They are not as strong as metal crowns, but they can look natural and aesthetic. They are most often used for front teeth.
Zirconium crowns: • They are highly aesthetic, extraordinarily tough, metal free, 100 percent biocompatible and they bond well with tooth.
How is a tooth prepared for a crown?
The amount of the tooth substance removed will be the same as the thickness of the crown. Once the tooth is prepared, the dentist will take an impression of the prepared tooth, one of the opposite jaw and possibly another to mark the way you bite together.
The impressions will then be given to the dental technician, along with an appropriate shade and other information i.e. needed for the crown to be made.
What will happen between visits?
A temporary crown will be fitted onto the prepared tooth unless the final crown is ready. This crown may be more noticeable but is only a temporary measure.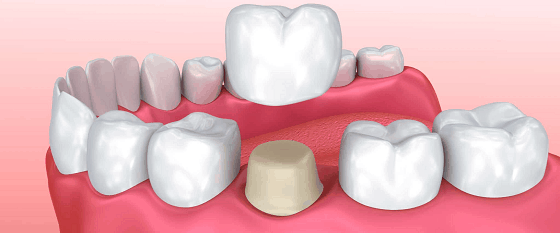 How is the crown fitted?
When the fit of the new crown is proper, it will be fixed onto the prepared tooth with dental cement. The cement forms a seal to hold the crown in place.
How long does the treatment take?
You will have to visit at least twice – 1) During the first visit, tooth preparation, impression, shade selection and fitting of the temporary crown are carried out. 2) During the second visit, the permanent crown is fit. There will usually be about 1 to 2 weeks in between the first and second appointments.
Is it painful to get a crown?
The tooth preparation should feel no different from a dental filling and there is no need for local anaesthetic.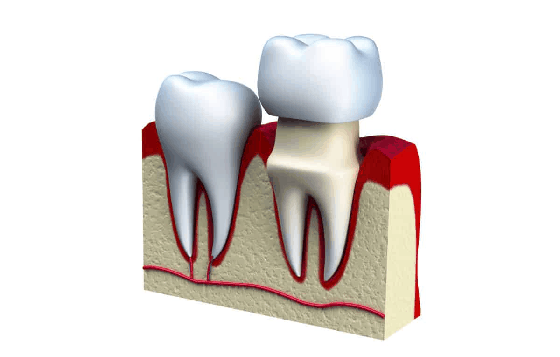 Do crowns look like real teeth?
The crown will be made to match your teeth shade as closely as possible. The shade of the neighboring teeth will be used as a guide for shade selection, to make sure that the color looks natural and matches the surrounding teeth.
Will the crown feel different?
Slight discomfort may be experienced since the crown is new. However, this is transient and should be fine. The crown may need some adjustment if your bite does not feel comfortable. If this is the case, then you should ask your dentist to check and adjust it.
How do I care for my crown?
How long your crown lasts depends on how well you look after it. The crown itself cannot decay, but decay can start where the edge of the crown joins the tooth. Therefore, to prevent decay affecting the crown, it is important to keep this area just as clean as you would for your natural teeth. Practice oral hygiene by brushing daily and also clean in between your teeth with interdental brushes or floss.
How long do dental crowns last?
If you properly care, a crown can last for years.
How much does a crown cost for a tooth?
Consultation and Treatment Planning

On the off chance that tooth rot or harm is broad to such an extent that facade, direct composite holding or other moderate medicines aren't suitable treatment alternatives — or in the event that you have experienced root canal treatment — your dental specialist will talk with you about dental crowns. Regardless of whether used to reestablish a harmed tooth or to make a similar tooth trade for an embed, crowns can be manufactured in dental research facilities or in your dental specialist's office, contingent upon the material.
Some portions of your meeting may include taking impressions of your current tooth (or teeth) as a reason for making the shape and size of your restoration(s). The dental specialist will likewise give you the teeth cap price alongside the material accessible. On the off chance that crowns will be utilized as a major aspect of a smile makeover, these impressions are utilized to make models for planning the new length, shape and arrangement of your teeth, with the goal that you can review your new grin before focusing on treatment.
Your dental specialist additionally will portray the tooth readiness process, just as your choices with respect to neighborhood sedation (to numb your teeth and encompassing territories) and sedation dentistry, if fundamental. On the off chance that your treatment includes the position of a transitory crown, your dental specialist will inform you with respect to what extent you should have the brief set up and what cleanliness steps to take to guarantee usefulness.
Why Select Sabka Dentist?
Affordable price– Sabka Dentist provides the best quality treatments at the most affordable prices. There is also provision of easy payment option that includes 0% EMI, and even flexible payment options like Bajaj Finsereve, Capital Float, Snapmint, etc.
Accessible locations– The location of our clinics are accessible and spread across Mumbai, Pune, Surat, Ahmedabad, and Bangalore. There more than a hundred Sabka Dentist Clinics that are present in these five different cities.
Technology used– Our clinics make use of the latest technology.
Expert dentists– There are more than 550 dentists who are working for Sabka Dentist. They are dedicated to provide their best results. They are updated with the latest procedures and technologies.
Tell Me More About Getting A Dental Crown At Sabka Dentist
Concerned about your dental crown treatment? Then it would probably be the ideal option to decide on a dental clinic that could offer you the finest treatment options when it comes to getting the dental crown treated. And also if you are searching for any reputed clinic to carry out your dental crown treatment, Sabka Dentist should really be your top choice. Sabka Dentist has consistently retained its place among the best dental clinics for dental crown treatment in India. This is because Sabka Dentist believes in providing cost-effective along with world class treatment services to everyone when it comes to dental care.
The dentists and medical team present at Sabka Dentist ensure that the patient feels comfortable and encounters no problem at all while having a dental crown procedure. Sabka Dentist's clinics have among the best hand-picked dentists that are experts at offering dental crown treatment and other dental treatments.
To perform a dental crown treatment, the dentists first examine the condition of the teeth and then decide which kind of dental crown would be suitable for their patient. Furthermore they ensure that their patients are comfortable with the tooth cap cost. Because teeth cap price depends upon which type of crown treatment you are having. This is because in most cases, permanent crowns are used which are made up of stainless steel, some other metal alloys, porcelain, ceramic or resin. The process to get a dental crown treatment will involve placing a dental cap over a damaged or injured tooth to improve its look. The dentist usually attaches the crown to the tooth surface in order to cover up the tooth portion that is above the gum line.
Sabka Dentist always picks dentists based upon their working experience, expertise and academic qualification to ensure that they are really invested in offering customized treatment to each patient. It is obvious that dentists from Sabka dentist are some of the best dentists in India. We offer the best dental crown treatments plan at the most affordable teeth cap price range. This is possible due to Sabka Dentist's motto of offering affordable teeth cap price with world class quality dental care.
Not to mention, in addition to our very affordable tooth crown prices, we make it absolutely certain that our patients feel at ease when visiting our clinics. Without doubt, Sabka Dentist has been ranked as one of the top clinics for dental crown treatment in India.
References:
FREQUENTLY ASKED QUESTIONS
How is tooth prepared for Crown?
The amount of the tooth substance removed will be the same as the thickness of the crown to be fitted. Tooth preparation is done to bring about optimum occlusal and axial reduction to establish retention and resistance form so that the crown does not get dislodged. It is not a painful procedure and anesthesia is administered before tooth preparation.
What if you fail to put a crown?
Root canal treated tooth is non vital and more susceptible to fracture. Performing routine root canal treatment requires drilling through the tooth substance to gain access to pulp chamber. However, this would require removal of bulk of tooth substance, thus weakening it. If the tooth fractures in a way that renders it irreparable, then it will need to be extracted.
Is Root Canal Treatment always needed before crown placement?
Root canal treated tooth need crown restoration. But, all teeth that need crowns do not require root canal treatment. The need for root canal treatment depends on whether the tooth pulp is infected or inflamed and painful, or if a very significant portion of the tooth substance is missing.
How is the crown fixed to the tooth?
The crown is fixed to the tooth with the help of adhesive dental cement (usually glass ionomer cement).
The impressions (negative replica) and information about the shade of the teeth is provided to the dental technician. They make dental models/casts (positive replica) after pouring the impressions with dental stone. Crown is fabricated on these casts to be sure that the crown has proper fit.
A Post is cemented into a prepared canal after removal of portion of gutta percha to retain a Core restoration, which in turn retains the final crown restoration. There is a need for post only when the remaining tooth structure is not sufficient to support the core material or the final restoration. The height of the post should be the same or greater than that of the height of crown, and its width should be determined by the width of the canal after endodontic treatment.
Does a dental crown require special care?
While a crowned tooth does not require special care, it is important to maintain good oral hygiene practices to protect the underlying tooth from re-infection, decay, localized gingivitis etc.