Dental veneers are a potential solution to achieve the look you desire. They are a popular choice for those with a misshaped teeth or a gap between natural teeth. They can also help the discolored teeth which cannot be restored by cleaning or bleaching.

What is dental veneer?
It is an ultra-thin, custom-made porcelain laminates that are bonded to the teeth. They may be fabricated from composite as well. They can close gaps, enhance the shape, or change the color of the teeth.
Why would I need an Oral veneer?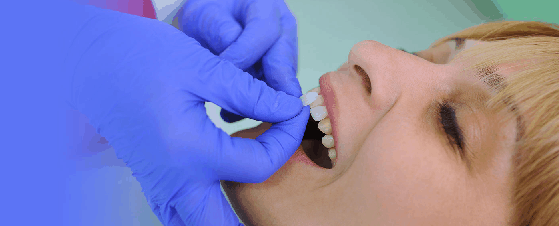 How long does the whole process of getting veneers take?
Treatment planning: This initial step is to find out whether treatment is suitable for you. It requires your active participation. Explain to your dentist about the result you are expecting.
During the consultation, your dentist will look at your teeth to ensure veneers are suitable for you and discuss the procedures and its limitations. The dentist may use the X-ray to analyze the tooth condition.
For the veneer procedure, your dentist will remove as little amount as required to place the veneer. This is amount almost equivalent to the thickness of the veneer to be added to the tooth surface.
Next, your dentist will make an impression of your tooth. Then this impression will be sent to the laboratory where the veneer teeth will be custom made. It may take two weeks to place the final veneer. Generally, they will place temporary veneers first.
Before cementing a permanent veneer teeth the dentist will temporarily place it on your tooth to check its fit and color. The veneer will repeatedly be removed and trimmed as needed to achieve the proper fit.
The color of the veneer shade can be balanced with the shade of cement to be used. Next, the cement is applied to the veneer, which is then placed on the tooth.
You may require a few visits in two or three weeks to check how your gums are reacting to the veneers.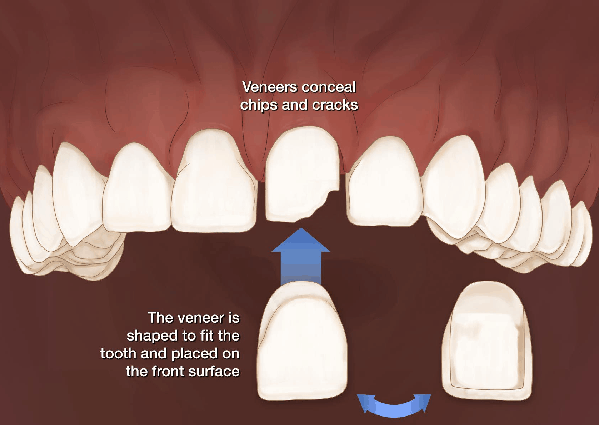 Below are the Pros & Cons of Dental Veneers
What are the advantages of porcelain veneers?
What are the disadvantages of dental veneers?
The drawback to veneer teeth include:
What type of dental problems does veneers fix?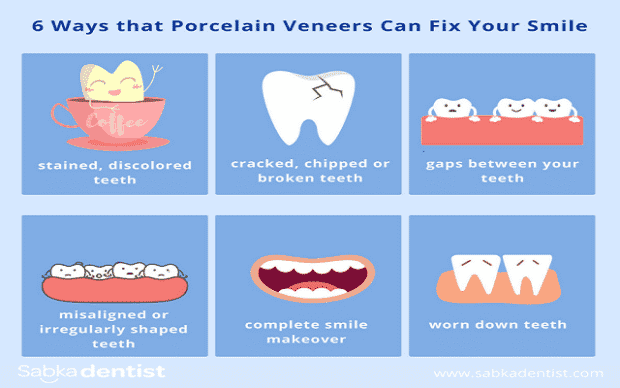 Veneers are bonded to fix:
What to know before getting veneer?
How do you take care of veneers?
Dr. Zita Antao Dental Director of Sabka dentist says "Veneers are thin shells of porcelain or composite resin that are custom made to fit over teeth, providing a natural, attractive look.They can be used to fix chipped, stained, misaligned, worn down or unevenly spaced teeth."
Dr. Ankita Gada Dental Director of Sabka dentist says "Porcelain Veneers are strong, long lasting and don't stain easily unlike composite veneers that are not that strong and stain easily. However, composite veneers can be repaired easily and quickly, while porcelain veneers are permanent."
Dr. Reena Waghela Dental Director of Sabka dentist says "Before you get veneers, your teeth and gums must be healthy. It is not a good choice for patients who clench/grind their teeth."
Frequently Asked Questions
Are Veneers permanent?
Porcelain Veneers are not considered a permanent procedure since they will likely have to be replaced at some point. They can last for decades as long as one takes care of them and maintains good oral hygiene.
What happens to teeth under Veneers?
Teeth need to be reduced and prepared first to accommodate Veneers.
How are Veneers applied?
Composite Veneer:

It is directly placed (built-up in the mouth) by dentist in clinical setting and polymerized using hand held curing light after application of etchant and bonding agent.

Or

It is indirectly fabricated by dental technician in a dental lab after recording an impression and later bonded to the tooth/teeth using resin cement.

Porcelain Veneer: It may only be indirectly fabricated and later bonded to tooth/teeth surface.
Do you have to shave down your teeth for Veneers?
Approximately 0.5 – 0.8 mm of tooth enamel is removed to achieve better bond strength and retention for veneers. This may vary according to the number of teeth, type of veneer and tooth anatomy.
A full veneer crown covers all the coronal tooth surfaces i.e. mesial, labial, distal. lingual and occlusal. About 1 – 1.5 mm is removed from all the tooth surfaces in this case.
Porcelain Laminate Veneer comprises of ultra-thin laminate layer that covers only the surface of the tooth. Incisal edge preparation requires reduction by 0.5 – 1 mm.
Are Lumineers better than Porcelain Veneers?
Traditionally, Veneers are made of porcelain and require tooth reduction. Also, they are long lasting.
On the other hand, Lumineers are non-invasive and require minimal tooth preparation. They are semi-permanent. After application, they can be removed with minimal damage to the teeth.
How often do you have to replace veneers?
Average lifespan of Veneer is about 10 years. When veneers eventually wear out, they will need to be replaced in the same way as the initial installation.
Where can the veneer treatment be considered?
Here are the situations where the veneer treatment for teeth can be considered:
Worn teeth or teeth chipping
Tooth discoloration
Gap between teeth
Certain kinds of teeth anomalies
How long do veneers last?
Veneers are long-lasting which can last for more than 9 years. They can be strong where there can be whiter shine on teeth that will prevail for a longer duration.
What care to take after the veneer treatment?
Few days after the veneer treatment, it can be uncomfortable.
Biting of the hard food must be avoided where the veneer is applied, as it can break under the pressure.
A proper brushing and flossing activity must be done regularly.
A regular dental check-up after every six months interval.
As veneers prices are a little high comparatively, people tend to avoid them. If you are looking for the low teeth veneers cost in India then Sabka dentist is a better choice. They can give excellent quality veneer treatment that can improve the quality of your smile. Come to Sabka dentist to get quality veneer treatment to get aesthetic teeth appearance.