Best orthodontist in Bangalore
Various misalignment of the teeth problems like crooked teeth, proclined teeth, inappropriate jaw alignment while chewing, etc. troublesome people. Here, the Orthodontic treatment using the braces is the better way to treat it. If you are staying in Bangalore, find the nearest Sabka dentist branch for treatment. We have  the best orthodontist in bangalore  to achieve proper teeth alignment.

What Is Orthodontic treatment?
Orthodontic treatment in Bangalore- It is a way of aligning the teeth in the jaw, to improve the appearance of the teeth and get a good smile. It can also help to look after the long-term health of the teeth, gums and jaw joints, by spreading the biting pressure over all the teeth.
Why should I have orthodontic treatment in Bangalore?
Many people have crowded or crooked teeth. Orthodontic treatment will straighten the teeth or move them into a better position. This can not only improve their appearance but also the way the teeth bite together, while also making them easier to clean. In some patients, the upper front teeth are placed forwardly which may increase the chances of fracture of these teeth.
Treatment from the best orthodontist in bangalore can help to get the teeth in the correct position. In others, the way the upper and lower jaws meet can cause teeth to look unsightly and lead to an incorrect bite.
Orthodontic treatment may be able to correct both. When the teeth don't meet correctly, this can put a strain on the muscles of the jaw, causing jaw and joint problems and in some cases headaches. An orthodontist can help by correcting the position and equalizing the biting force evenly and reduce the strain.
Orthodontic care is not just cosmetic in nature. It also can benefit long-term dental health. Straight, properly aligned teeth are easier to brush and floss. This can help reduce the risk of tooth decay. It can also help prevent gingivitis, an inflammation that damages gums.
At what age should I have orthodontic treatment in Bangalore?
Orthodontic treatment is generally best carried out in children, but adults can have orthodontic treatment – and more and more are doing. Age is less important than having the proper number of teeth. In children, it may be necessary to wait for enough teeth to come through before starting treatment.
What does orthodontic treatment in Bangalore involve?
The most important thing is to have a full examination. This will usually involve looking at your teeth, taking x-rays and making plaster models of your teeth. Your dentist or orthodontist will then discuss what treatment is possible. Once you are sure you want to go ahead, the treatment can begin as soon as you have enough permanent teeth.
Will I need to have teeth taken out to make space?
You may not have enough room for all your permanent teeth and so it may be necessary to take out some permanent teeth to make space. Your dentist will tell you whether this is the case. Sometimes space can be created using other forms of treatment.
How is the Braces treatment in Bangalore carried out?
Orthodontic treatment can be done by many sorts of appliances, which most people know as 'braces'. Everyone has a slightly different bite, so the treatment techniques vary. Braces are the most common approach and help move the teeth slowly by applying precise amounts of light pressure over a long period of time.
Most orthodontic treatments in Bangalore occur in two phases:
The active phase: Braces or other appliances are used to move the teeth into proper alignment and correct the bite.
The retention phase: A retainer is used to hold the teeth in their new positions for the long term.
In addition to braces, best orthodontist in bangalore sometimes use special appliances (called functional appliances) to direct the growth of the jaw in young children.
What are braces?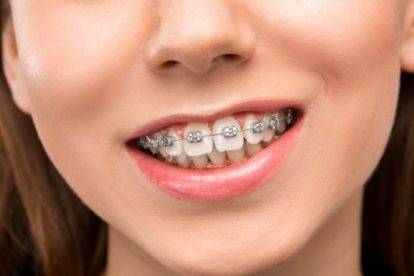 When teeth need to be guided more accurately, fixed appliances are used. These appliances have brackets and bands temporarily stuck to the teeth, these are braces.
What are the different types of braces treatment in Bangalore?
There is basically 2 broad category of braces treatment:
1. The Visible Treatment
Visible braces are of 2 types either metal bracket or ceramic/tooth colored bracket which is stuck on the front surface of all teeth. The newer variation is the Self-ligating brackets available in both the metal and ceramic. The major benefit of self-ligation is a short duration of treatment and better oral hygiene maintenance.
2. Invisible treatment:
The Invisible Treatment includes-
1) The Lingual Bracket system: involves brackets on the inner surface of teeth which cannot be seen from the outside.
2) The Clear Aligners: This is a removable and invisible treatment option which involves wearing a series of clear/transparent trays throughout the day only to remove while eating, brushing and flossing. Every aligner is worn for 2 weeks and moved to the new set-slowly the teeth start moving and reach the straightened position.
Sabka dentist provide the best possible cost for invisible braces at EMI facilities
Ask your Orthodontist the best option that suits you.
How to take care of Braces?
Brushing carefully is more important with braces treatment a lot of food debris can stick around the brackets. There special small brushes called proxabrush which help to clean the debris around the brackets and elastics. With braces, you should avoid eating too much sticky and hard food as that can lead to breakage of the brackets and delay the treatment time.
JP Nagar
No. 123, 1st Floor, 24th Main, Opp Royal High School, Next to WE Fitness Gym, 5th Phase, JP Nagar, Bangalore – 560078
Jayanagar
1st Floor, Diamond arcade, 38th D Cross, 11th Main, Opp Airtel Gallery, Next to Vijaya College, 4th Block, Jayanagar, Bangalore – 560011
HSR Layout
No. 803, 27th Main, 12th Cross, Opp Kaya skin clinic, Near HSR police station,1st Sector, HSR Layout, Bangalore – 560102
Koramangala
No.429, 80 feet road, Opp National games village, Near Koramangala bus depot, 6th Block, Koramangala, Bangalore – 560069
Rajaji Nagar
Ground Floor, Chirag Plaza, 63-B, 10th Main, Next to ESI Hospital, Ram Mandir Road, 4th Block, Rajaji Nagar, Bangalore – 560010
Malleshwaram
No.58, Ground floor, 6th Cross, Next to A2B, Sampige road, Malleshwaram, Bangalore – 560003
BTM Layout
1st Floor, No.773,7th Cross,16th Main,BTM 2nd Stage,Near Mcdonalds,Bangalore 560076
Vijayanagar
No. 45, 17th Cross, MC Layout, Vijayanagar, Bangalore – 560040
HRBR Layout
218, Antonite Sunshine Complex Kammanahalli Main Road, Above Reliance Footprint , HRBR Layout Bangalore 560043
Whitefield Main Road
No. 364, Gurushree Tower,3rd Cross, Whitefiled Main Road, Opp. Unilever R & D Center, Next to Food World, Whitefiled, Banglore 560066
HSR Layout BDA Complex
No. 59/101/A, 1st floor, 17th Main Sector 6, Opp Icici bank Sector 7 branch and Lenskart , HSR layout, Bangalore: 560102.