Sabka Dentist- Dental Implant Clinic in Mumbai
Book an Appointment for Free Dental Check-Up
A dental implant, at Sabka Dentist in Mumbai, is an Operational treatment that deals with the gap of the missing tooth. It performs the task of the root of a missing tooth. At Sabka dentist in Mumbai, Implant treatment gives support to a
crown
, a bridge, or a denture very carefully in their place. They are the only option for restoration of missing teeth as they have great longevity. Implants in dentistry works aesthetically, as it is a replacement to a natural tooth. Providing the patients a subtle environment at Sabka Dentist in Mumbai, along with the best implant treatment performed by our professional expertise dentist is our forte. High- quality instruments for the implant treatment is what Dentists at Sabka dentist in Mumbai serves the patients with. At Sabka Dentist Mumbai Implant treatment done will amaze the patients with pain- free treatment. Our hard-working yet friendly staff agrees to serve the patient with great comfort. With a transparency and friendly staff, expert dentists and, comfortable ambiance Sabka Dentist In mumbai ensure to maintain optimal level of medical environment and procedures. Hence, Sabka Dentist in Mumbai is the one -stop solution for all the dental problems.
What is the Dental Implant Procedure?
Dental experts are known to perform Dental implant treatment. They work for restoring the gap of the missing tooth. At Sabka dentist, Dental implant treatment, was traditionally practiced by replacing the missing tooth with a dental bridge or a denture. But, at Sabka Dentist in Mumbai advanced technology has paid-off the dental industry. Usage of advanced dental technology has made the dental implant treatment more effective due to the method used for restoration of the empty gap. Dental implants are generally performed by the dentists for restoring the missing teeth. In Sabka dentist, Dental implant treatment used to traditionally performed by a dentist to replace a missing tooth with a
dental bridge
or a
removable denture
. As sabka dentist in Mumbai, make use of modern dental instruments , Hence, dental implants treatment in mumbai are considered to the most effective method for restoration of a gap due to missing tooth.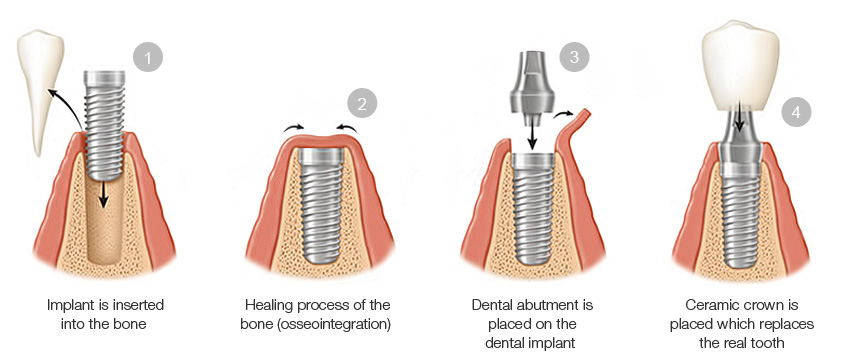 What are the steps for replacement of missing teeth through dental implant treatment?
The motive of dental implant treatment is replacement of the missing tooth. Implant treatment at Sabka Dentist takes approx 4 to 6 months which also includes three main steps. Firstly, Dental implant treatment includes operation in which the dental implant will be screwed into the jawbone of the missing tooth. The second treatment includes healing and osseointegration. Placing a crown on the implant to give the implant instrument a tooth- like look and functionality is the last step in the primary treatment.
Step 1: Placing the Dental Implants
It is a minor operation where the screw of the implant is fixed inside the bone. While performing this surgery local anesthesia is administered for approximately 1 hour. In this process, the dentist will open the flap of the gums by cutting it with a scalpel. After this process is done the dental experts will drill a hole for the screw of dental implants that has to be placed. The drilled hole will be tapped to create screw threads. Later, the gums will be stitched up for healing. Still after the surgery will be done the empty gap will be still visible.
Step 2: Healing Phase and Osseointegration
In this phase the implants will be screwed into the bone and will get attached forming the root of the missing tooth which is going to be replaced. It is the longest waiting as well as important stage of dental implant treatment as the dentist will be checking the bone growth and stability for approx 3 months. When the implant will be totally integrated into the bone, the implant will be ready for the third stage treatment of cupping or crowning the implant to provide for the missing tooth.
Step 3: Abutment on the Implant
Abutment of the implant takes place when the dentist will be 100% sure that the implant has been completely integrated into the bone and hence results in stability. In stage, the dentist will start preparing abutment (that actually connects the screw and the crown). The dentist will put the abutment onto the implant and fix it by using a screw. Stitching of gums will take place by the dentist and they wait for the gums to heal. Once this procedure will be done the patient will be able to see the metal abutment in place of missing teeth
<h4″id="step_4_taking_impression_for_preparing_the_crown_or_cap>Step 4: Taking Impression for preparing the crown or cap </h4″id="step_4_taking_impression_for_preparing_the_crown_or_ca
After fixing the abutment, after 1 or 2 weeks, the gums around abutment get healed and the dentist can now take an impression and measurements for designing of the crown and the cap. After the selection of the cap and crown it will be sent to the laboratory for making.
Step 5: Placement of the Crown or Cap
After 1 or 2 weeks caps will be sent from the laboratory for trial, so as to check whether the cap will fit the patient's mouth on the abutment. Once after the trial of the caps and crowns, if the dentist feels there are any changes in the crown cap which are necessary to change, the dentist will send the crown back to the laboratory for the same. And if the crown fits perfectly and to the satisfaction of the dentist, then the crown will be screwed or cemented onto the abutment. This will be the final step of dental implant treatment giving the asthesthics look as well as functionality.
The following are some common risk conditions for dental implants:
Diabetes or high or low sugar problem- It is suggested by the dentist that every patient who has done with dental implant treatment is quoted to have a control over sugar levels before and after the treatment. It will result in Successful surgical placement of the implants.
Allergies- Before taking up any dental treatment it is necessary to disclose all the allergies to the dentists so that proper precautions can be taken by the dentists to avoid further complications.
Smoking- for better results of the dental implant treatment smoking amongst the patients should be stopped. A person who does not smoke will have a great success rate in dental implant treatment as compared with a regular smoker.
Dental Hygiene- A good oral health and good hygiene should be maintained by the patients. Everyday brushing, flossing, and good food habits will give better results for any dental implant surgery.
What is Dental implant cost in Mumbai?
Sabka Dentist aims of serving the patients with high-quality dental treatment at an affordable price, Hence, full dental implant cost in Mumbai varies in two types of prices from economy to premium.
Implant Price (Rs.)
Economy-ADIN Rs. 25,000/-
Premium-Nobel Biocare-Active Rs. 50,000/-
Amount for the dental implant can be paid using our EMI options
In case you are interested in learning more about the actual dental implant cost in Mumbai, continue reading. There are various factors affecting the price of dental implants, some of that have been shown below.
Number of tooth replacements – Naturally, replacing more teeth would cost you more. It's always a smart idea to check out the charges in your location, particularly if you have several teeth to be replaced. Pick a dentistry medical clinic which is primarily based out of a city in which the typical price would be around the lower side. For example, teeth replacement or dental implant cost in Mumbai would vary from the actual cost of dental implants in some other city.
Position of the tooth – The position of the tooth to be replaced, the structure of your mouth, as well as the actual position of the tooth to be replaced; all have an impact on the price of tooth implants.
Bone strength and density – A very good bone density is necessary for a successful tooth implant. If you have a low bone strength and density, initial bone grafts have to be carried out, which will raise the overall cost of having a dental implant.
Location of the clinic – The location of the dental medical clinic will likely to impact the price of a tooth implant. For example, the tooth implant cost in Mumbai will vary from the tooth implant cost in some other location.
These are basic aspects affecting the price of getting dental implants. We hope that now you have a clearer understanding of the cost of tooth implants in Mumbai, as well as the aspects having an effect on this.
Tell Me More About Getting A Dental Implant At Sabka Dentist, Mumbai
If you are one of those individuals who are particular about your dental health treatment, you must choose the best when it pertains to oral care checkups and treatments. Dental implant cost in India are affordable as Sabka Dentist is consistently graded among the best option for best dental implants in Mumbai with best EMI solutions. At Sabka Dentist, people not just obtain a top class cure for their tooth troubles, but additionally get to enjoy the benefits of full mouth dental implants cost in Mumbai. No matter the background or career of an individual, we guarantee that all of our individuals sense at ease and face absolutely no concerns when it comes to teeth setting cost in Mumbai. We are amongst the top oral clinic chains in Mumbai and have a legacy that is unparalleled by any other tooth clinic in Mumbai, India.
So, the next time you plan on visiting for dental implants, we should be at the top of your list of best dental implants in Mumbai. Consider us your own 'Apna Dentist', and we all can help you with your dentistry problems so that you can carry on and spread joy and happiness across with your wonderful smile.
The single-tooth implant cost in Mumbai can vary depending on the region and who is performing the procedure. Factors that affect teeth replacement cost in Mumbai are:
Number of Replacements
Location of the Tooth
Bone Density
The Need for Extractions
Overall Oral Health
But at Sabka Dentist all of us make sure that you don't feel the pressure of tooth implant cost in Mumbai. That's why Sabka Dentist offers the best teeth replacement cost in Mumbai, which you can afford in first thought. Contact us today to discuss your smile or with questions regarding dental implants cost in Mumbai.
Sabka Dentist Clinics for Dental implants in Mumbai
Address:
5, Gr Floor, Vasant Village, Behind Vora Medical Opp. Jaslok Farshan, Near Andheri Rly Station SN Rd, Sampada Society, Andheri East, Mumbai, Maharashtra 400069.
Phone:
8291819546
Address:
Flat No: 202/B-3, Greenland CHS Ltd, Near ICICI Bank, Opp Bagerker College, Next to Jyoti Restaurant, J.B. Nagar, S B Singh Colony, J B Nagar, Andheri East, Mumbai, Maharashtra 400059.
Phone:
8291849551
Address:
Shop No-2A, Takshila Bldg. No-29 CHS, Opp. Model Town and Apollo Garage Near ICICI ATM and Pearl Residency, Takshila, Takshila Colony, Indira Nagar, Andheri East, Mumbai, Maharashtra 400093.
Phone:
8291819559
Address:
Shop no. – 14, Ground Floor, Madhav Nagar Building Behind Merwan 's, Opposite Bank of Baroda Next to Bus Depot, Swami Vivekananda Rd, Andheri West, Mumbai, Maharashtra 400058.
Phone:
8291819548
Address:
Shop No-2, Atlantis Building, Near 7 Bungalows Garden, Opp. HDFC Bank, Next to Monalisa Saloon, J. P. Road, Aram Nagar Part 1, Aram Nagar, Versova, Andheri West, Mumbai, Maharashtra 400053.
Phone:
8291819558
Address:
Shop No-45, 1st Floor, Gopal Mansion, Above Janta Book Depot, Near Bandra talaav and PWC Building, Gurunanak Road (Station Road), Bandra, Bandra West, Mumbai, Maharashtra 400050.
Phone:
8291819551
Address:
Shop No 4, Ground Floor, Sada Smruti Tower CHS Ltd, Opp Maxus Mall, Next to Ribbons and Balloons Temba Road, Geeta Nagar, Bhayander West, Mumbai, Maharashtra 401101.
Phone:
8291849547
Address:
Shop No-13, Gr Floor, Goverdhan Nagar 41 Wing Poisar Gymkhana Road, Kandivali ( West) Mumbai 400067.
Phone:
8291819542
Address:
Gr Floor, Saraswati Niwas, Near Laxmi Chaya Building, Near Deepak Hotel, Eksar Road, Babhai Naka, Borivali (W), Kamdhenu Society, Borivali West, Mumbai, Maharashtra 400092.
Phone:
8291819544
Address:
Shop no.4, Nimesh Kunj, Opp Jain Mandir, Mandpeshwar Road, Near Gokul Hotel, Borivali West, Mumbai, Maharashtra 400092.
Phone:
8291819552
Address:
Shop No 6 Sunny Estate building no 2 Sion Trombay Road, Near to IDBI bank, Opp Dena Bank, Near to Diamond Garden, Chembur East, Mumbai, Maharashtra 400071.
Phone:
8291849549
Address:
Shop No 2, Daulat Shirin CHS Ltd, Near Colaba Post Office, Opp. to Baptist Church, 31 Colaba Road, Cuffe Parade, Mumbai, Maharashtra 400005.
Phone:
8291849562
Address:
7-A Sarvodaya Bhuvan, Opp. Apna Bazar, Beside Anugraha Restaurant, Gokhale Road (North), Bhawani Sankar, Dadar West, Mumbai, Maharashtra 400028.
Phone:
8291849566
Address:
Shop No 1, Near Canara Bank, Behind Bhatla Devi Mandir, S.V.Road, Dr. Ambedkar Udyan, Maratha Colony, Dahisar East, Mumbai, Maharashtra 400068.
Phone:
8291849546
Address:
Shop No 16, Ground Floor, Orbit Grand Rehab C – Wing, N.M.Joshi Marg Opp: BMC Office G-South Ward, West, Fitwala Rd, Elphinstone, Saidham Nagar, Parel, Mumbai, Maharashtra 400013.
Phone:
8291846933
Address:
Shop no 1 Ground Floor Megh Ratan CHS. Ltd Junction of Tilak Road, and, Derasar Ln, Ghatkopar East, Mumbai, Maharashtra 400077.
Phone:
8291819578
Address:
B-105, 1st Floor, Bhaveshwar Plaza, Opp. to Shreyas Cinema, Next to Sapna Hospital, L.B.S Marg, Nityanand Nagar, Ghatkopar West, Mumbai, Maharashtra 400086.
Phone:
8291849553
Address:
Shop No-1, B-Wing, Satellite Garden 1 CHS, Near Gokuldham, Ridhhi Gardens, Gen. A.K. Vaidya Marg, Azad Nagar, Gokuldham Colony, Goregaon East, Mumbai, Maharashtra 400063.
Phone:
8291819557
Address:
Shop No-10 Anand Vatika Society, Next to ICICI Direct Opp. Mcdonalds Restaurant, S.V. Road, Siddharth Nagar 4, Shri Nagar, Goregaon West, Mumbai, Maharashtra 400062.
Phone:
8291819554
Address:
Shop No-4, Vasant Utsav Rangoli Building, Near Southern Treat Hotel, 120 feet Road, Thakur Village, Kandivali East, Mumbai 400101.
Phone:
8291819545
Address:
Shop No-21, Gr Floor, Raj Heights CHS, Near Dominos, Opp. Shivsena Office, MG Road, Kandivali (W), Gaothan, Bohra Colony, Dahanukar Wadi, Kandivali West, Mumbai, Maharashtra 400067.
Phone:
8291819543
Address:
Shop No-14, Shree Datta Krupa CHS, Opp. to Voltas House, Dr. B. Ambedkar Marg, Lalbaug, Chinchpokali, Mumbai, Maharashtra 400012.
Phone:
8291819579
Address:
Shop no: 4, Karambhoomi Building, Mori Road, Near Mahim Church and, and TV Town Electronics, Opp. Makhdoomi Hotel, Mahim (West), Mahim, Mumbai, Maharashtra 400016.
Phone:
8291819553
Address:
Shop No 3, Dhiraj Apartment, Poddar Road, Near Goal Garden, Primal Nagar,, Malad East, Mumbai, Maharashtra 400097.
Phone:
8291819576
Address:
Shop No 2, Darshan House, CTS no 834, Mamlatdarwadi main road, Malad (west), Mumbai 400 064.
Phone:
8291819541
Address:
Shop No-13, Saifee Park Building – C, Opp. Mazagaon Post Office Dr. E. Mascharenhas Marg, Mustafa Bazar, Mazgaon, Mumbai, Maharashtra 400010.
Phone:
8291819577
Address:
Shanti Plaza, Shop No 16, Ground Floor, Bldg No S/1 Opposite to Sector 5, Sector 11, Shanti Nagar, Mira Road East, Mira Bhayander, Maharashtra 401107.
Phone:
8291849548
Address:
Shop No-10, Gala Kunj Apartments, Opp. Vani Vidyalaya School, Next Khotari Sweet, J. N. Road, Mulund West, Mumbai, Maharashtra 400080.
Phone:
8291819580
Address:
Shop no 3, Martin Commercial Complex, P2, Pocket Of Group Housing Scheme, Village Achole, Tal: Vasai, Yashvant Viva Twp, Nalasopara East, Thane, Maharashtra 401209.
Phone:
8291846938
Address:
Shop No 12, Oshiwara Ekdant CHS Ltd, Next to Great Home Super Market, Opp. Mohan Medical, Andheri Link Road Extension, Mhada Lay-Out, Oshiwara, Jogeshwari West, Anand Nagar, Andheri West, Mumbai, Maharashtra 400102. Phone: 8291846937
Address:
Ground Floor, IOC Petrol Pump,, Opp. IIT Mumbai Main Gate, Powai, BSNL Colony, Powai, Mumbai, Maharashtra 400076. Phone: 8291819560
Address:
13, Jayant Apt., Opp. ICICI Prudential Building, Near Century Bazar, A.M. Marg, Prabhadevi, Century Bazaar, Prabhadevi, Mumbai, Maharashtra 400025. Phone: 8291819547
Address:
Shop No 2B, 311 Vidyanagari Marg Near General Hospital, Next Bhatta Medical Store, Kolivery Village, Vidya Nagari, Kalina, Santacruz East, Mumbai, Maharashtra 400098. Phone: 8291849552
Address:
Shop No. 9, Sujata Rajpipla CHS Ltd, 27-C, Opp. Santacruz Police Station, Juhu Road, Santacruz West, Mumbai, Maharashtra 400054. Phone: 8291819549
Address:
201, Bansari Bhuvan Building, Ground Floor, Sion Main Road Next to Union Bank of India, Opposite Domino 's Pizza, Sion East, Sion, Mumbai, Maharashtra 400022. Phone: 8291819556
Address:
Flat G-07, Minal Apartment, Opp. Navin Thakkar Hall, Shradhanand Rd, Navpada, Vile Parle East, Vile Parle, Mumbai, Maharashtra 400057. Phone: 8291819550
Address:
Shop No.1, Empire House, S.V. Road, Opp. Irla Petrol pump, Irla, Vile Parle West, Mumbai 400056. Phone: 8291819540
Address:
Bldg no 11, A Wing, Ambo Patil Estates, Near Banjara Hotel Above Canara Bank, Opp. Reliance Smart, Tirupati Nagar, Virar West, Maharashtra 401303. Phone: 8291849557