Pediatric Dentistry in Bangalore
A Pediatric dentist has to do an extra two to three years of specialty training for practicing. They need to be well-versed with the children's overall oral health and the skill to do the necessary treatment for them. You can find expert Pediatric dentistry in Bangalore at Sabka dentist for your child's oral health. They can help you achieve better oral health.

What is a Pediatric Dentist?
A Pediatric dentist in Bangalore and other cities must have to complete two or three years of specialty training after completing dental school training. The only difference that these dentists have from a normal dentist is that the pediatric dentists are limited to treating infants, children, and teenagers only. They specialize in providing primary and specialty oral care for babies, children, adolescents and those who require special needs.
Children start getting their baby teeth during the first 6 months of their life and by the age of 6 or 7 years, they lose their temporary milk teeth and get their permanent teeth. Now if these permanent teeth are not taken care of then there are possibilities that the child must face oral decay and diseases that can give rise to lifetime pain and complications. A child dentist in Bangalore usually offers a wide range of treatment options, expertise, and training to take care of the entire oral hygiene of the children.
Every child is different and they require a customized treatment plan. Only the best paediatric dentist in Bangalore will be able to offer a wide range of treatment options to a child based on their medical history, special health care requirements and finally parental preferences.
Common Pediatric Dental Procedures
It is never too late or too early to visit paediatric dentist, If you face any teeth problems you should immediately visit the paediatric dentist in Banglore or whichever city you reside in, they will help you to the right path that will help your child achieve good oral health. In order to do that, it is very important to monitor the child's dental growth and development to prevent dental diseases. A child's first dental check-up should be done at the age of 1 to prevent baby teeth cavities and keep track of the overall child's development. Following are some of the most common pediatric dental procedures-
Fillings – Dental fillings are used to seal small cavities or fissures or pit in the teeth that are caused due to tooth decay. This is a painless procedure that prevents teeth from further decay and also stops the spreading of bacteria further into the tooth that may damage the root canal. The pediatric dentist may use either metal fillings or tooth-colored fillings depending on individual requirements.
Sealants – The dental sealant is actually a plastic coating that is applied on the tooth surface after smoothening out the chewing surface of the back teeth. A sealed tooth is less prone to develop a cavity but may require extensive care to maintain the result.
Crowns – Dental crowns are basically dental caps that are placed on the tooth surface to strengthen a decayed, damaged or injured tooth. The pediatric dentist in Bangalore uses a stainless steel crown as a temporary solution until the permanent teeth come out.
Interceptive Orthodontics- According to most of the pediatric dentists, it is best to treat certain orthodontic issues during childhood. This is because every child undergoes a developmental phase until they are fully matured as a result the dentists can bring big changes within a very short period. So undergoing an early orthodontic treatment can prevent undergoing extensive orthodontic treatment in the future.
Space maintainers – If any child loses a baby tooth earlier than expected then a space maintainer may help in holding space until the permanent tooth appears. This is a tiny dental appliance that is used to maintain the space properly between two teeth and hopefully avoid using braces in the future.
Dental cleaning – This is a procedure where the pediatric dentist first reviews the child's medical history and then the child's oral health condition is verified. Then the teeth are then cleaned thoroughly and the tartar layers are removed to prevent the formation of cavities.
Fluoride treatment – A best pediatric dentist in Bangalore and other places performs a fluoride treatment mostly after a dental cleaning procedure. This treatment includes applying a fluoride layer on the teeth surface that helps in protecting and strengthening the weak areas against decay. A low level of fluoride is usually found in naturally occurring water supply and other sources of fluoride may be found in some kinds of toothpaste and bottled waters.
Tooth extraction – Tooth extractions are only performed as the last option for an extremely damaged or decayed tooth. However, pediatric dentists may also choose tooth extraction for proper tooth alignment and for maintaining correct spacing in the child's jaw.
Pulp treatment – The pulp treatment involves the treatment of the nerves and blood vessels of the tooth root. Children may need to undergo a pulp treatment as a result of extensive tooth decay or extensive tooth injury.
How to Choose a Pediatric Dentist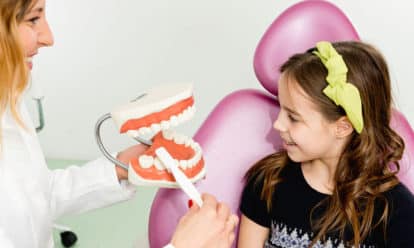 A best pediatric dentist in Bangalore and other cities specialize in treating certain dental conditions that require unique treatment procedures. However, choosing a pediatric dentist can be daunting as that involves your child's smile. Children are usually very scared of undergoing dental procedures, so it is very important for the pediatric dentist to create a positive impression on the child's mind and make sure that the child feels comfortable enough with the doctor and staff as well.
When choosing a pediatric dentist for your child, it is very imperative to try out the recommended options from someone whom you trust the most like a friend, family or even a co-worker. Once the list of a pediatric dentist is ready, you must start quick research on them to get knowledge about their educational background, qualification, experience and most importantly their reputation.
Before setting up an appointment with the dentist makes sure that the candidate is genuine, a licensed member and remains updated with the latest technological upgrades.
Now the next most essential aspect of choosing the best pediatric dentist in Bangalore and any other place is to understand if the child is feeling comfortable enough with the dentist and the staff. In most of the cases, a friendly clinic atmosphere helps children to feel comfortable and less afraid. As a parent, it is your duty to attend the first consultation to clear out all the queries and understand the child's oral health condition.
Why Select Sabka Dentist?
If you are trying to find the right pediatric dentist in Bangalore then you may choose Sabka Dentist that has its branches in Delhi, Mumbai, Pune, Ahmedabad, and Surat. Basically, Sabka Dentist has a chain of dental clinics that aim in providing the best services and keep the people of India smiling. This clinic has made dental care affordable and accessible to each and every person in a society.
Sabka dentist has the best-experienced dentists who are fantastically skilled and dedicated in presenting the nice services to their sufferers. They constantly maintain themselves up to date with the trendy technology with the aid of attending several seminars and schooling periods.
This clinic uses all the latest technologies like x-rays, CAD-CAM Crown (Computer Assisted Design), Laser Dentistry, Dental implants, zoom whitening and a lot of other dental procedures.
Most importantly, the clinic maintains absolute hygiene and sterilized equipment before starting any dental procedure. The clinic is equipped with all the latest equipment that makes people feel very comfortable and free.
The best part is Sabka Dentist provides the best payment options like zero cost EMI or other flexible payment options like the Bajaj Finserv card or other such facilities.
So get your appointment now and get in touch with the pediatric dentists of Sabka Dentist today!
Dr. Jena Shah Dental Director of Sabka dentist says "Dental checkups are important to maintain good oral hygiene and a disease-free mouth"
Dr. Zita Antao Dental Director of Sabka dentist says "It is recommended that everyone should get a dental checkup done once every 6 months"
Dr. Rupali Gujar Dental Director of Sabka dentist says "A dental checkup is a two-step process that includes evaluation of oral tissues followed by cleaning and polishing."
JP Nagar
No. 123, 1st Floor, 24th Main, Opp Royal High School, Next to WE Fitness Gym, 5th Phase, JP Nagar, Bangalore – 560078
Jayanagar
1st Floor, Diamond arcade, 38th D Cross, 11th Main, Opp Airtel Gallery, Next to Vijaya College, 4th Block, Jayanagar, Bangalore – 560011
HSR Layout
No. 803, 27th Main, 12th Cross, Opp Kaya skin clinic, Near HSR police station,1st Sector, HSR Layout, Bangalore – 560102
Koramangala
No.429, 80 feet road, Opp National games village, Near Koramangala bus depot, 6th Block, Koramangala, Bangalore – 560069
Rajaji Nagar
Ground Floor, Chirag Plaza, 63-B, 10th Main, Next to ESI Hospital, Ram Mandir Road, 4th Block, Rajaji Nagar, Bangalore – 560010
Malleshwaram
No.58, Ground floor, 6th Cross, Next to A2B, Sampige road, Malleshwaram, Bangalore – 560003
BTM Layout
1st Floor, No.773,7th Cross,16th Main,BTM 2nd Stage,Near Mcdonalds,Bangalore 560076
Vijayanagar
No. 45, 17th Cross, MC Layout, Vijayanagar, Bangalore – 560040
HRBR Layout
218, Antonite Sunshine Complex Kammanahalli Main Road, Above Reliance Footprint , HRBR Layout Bangalore 560043
Whitefield Main Road
No. 364, Gurushree Tower,3rd Cross, Whitefiled Main Road, Opp. Unilever R & D Center, Next to Food World, Whitefiled, Banglore 560066
HSR Layout BDA Complex
No. 59/101/A, 1st floor, 17th Main Sector 6, Opp Icici bank Sector 7 branch and Lenskart , HSR layout, Bangalore: 560102.