"A smile is the prettiest thing you can wear"
It is true, isn't it? When we meet a person for the first time, we consciously or subconsciously first notice their smile.
For the very same reason, people who are conscious about their smile, prefer to hide it behind their lips or clutch their hands on their mouth while laughing. There are two primary reasons why people can be conscious about their smile – yellow, discoloured teeth and crooked teeth!
While crooked teeth can be corrected using braces, yellow, discoloured teeth can be very easily treated by teeth whitening procedures. But, a large number of people are concerned about teeth whitening side effects and therefore, avoid getting themselves a beautiful, dazzling smile!
Why Do Teeth Get Discoloured?
Before we understand teeth whitening side effects, we must answer some basic questions that people have- "Why do my teeth turn yellow?" or "Why are my teeth yellow?" Well, teeth can get turn yellow or become discoloured for a number of reasons.
While some factors cause the teeth to get discoloured on the outside, sometimes, the teeth can get discoloured from within. External Discolouration can result from eating coloured foods, the use of turmeric in Indian food, drinking coloured beverages, consuming tea, coffee, and red wine, and smoking. These cause the teeth to get stained from outside.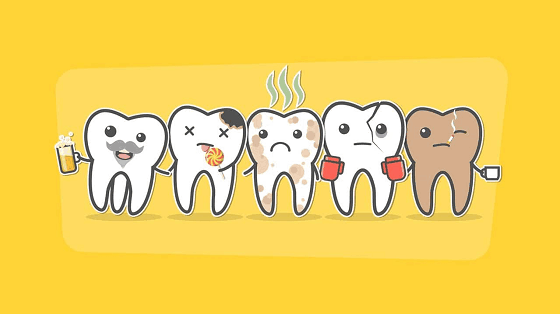 However, many a time, teeth can get discoloured from within. This can occur due to medications used when a woman is pregnant leading to tooth discolouration in the child, childhood illnesses, trauma, infections and ageing.
Teeth whitening method chosen by your dentist depends upon the cause of your tooth discolouration from those mentioned above. Just before we proceed to understand teeth whitening side effects, we must know what teeth whitening options are available to you!
What Teeth Whitening Options do I Have?
There are many different teeth whitening options. However, they can be grouped under three broad categories:-
Teeth whitening administered by the dentist in the dental clinic
Teeth whitening kit provided by the dentist but for home-use
Over-the-counter(OTC) teeth whitening options
Teeth whitening side effects are different for each of the options but which option to choose is based on the following factors:
Type of discolouration
Cause of discolouration
Age of the patient
Dental history and presence of crowns, fillings, veneers, implants etc.
Cost of the treatment
Before your dentist begins with the procedure, he/she will give you a detailed explanation of your discolouration, the treatment method chosen, duration and process of treatment and teeth whitening side effects if any.
Teeth Whitening Side Effects
Teeth whitening performed at the dentist's office or by using the products that are available in stores all of them use the same basic component i.e. peroxide. Peroxide has a bleaching effect on the teeth, making them whiter and brighter and hence, its use.
The teeth whitening procedure done by the dentist in the clinic uses a high concentration of hydrogen peroxide that helps whiten and brighten your teeth.
But, the teeth whitening products which are given to you for using at home without your dentist's supervision and the ones available in the stores use a product called carbamide peroxide. This peroxide compound is milder than hydrogen peroxide and is, therefore, safer to use without a dentist's supervision.
Does this information make you worried about the side effects of teeth whitening even more? Well, don't fret! Teeth whitening is a safe procedure and is routinely done as part of cosmetic dentistry treatments.
Due to the peroxide used in the teeth whitening products, two of the most common teeth whitening effects are – tooth sensitivity and soft tissue irritation.
It is quite common for patients to feel sensitivity in their teeth during or right after the teeth whitening procedure. This is a common side effect and occurs because the molecules of the teeth whitening gel penetrate into the dentin layer.
If a tooth's dentin layer is already exposed or you already have tooth sensitivity, inform your dentist before the procedure. This way your dentist can take proper care to suggest products that can help reduce sensitivity and prevent its aggravation during the teeth whitening procedure.
However, this is among those negative teeth whitening effects which doesn't last long.
The next common among teeth whitening side effects is soft tissue irritation. This occurs when the teeth whitening gel comes in contact with soft tissues like the tongue, cheek or gum.
This is a type of chemical burn and the tissue appears white. This is more common in the case of in-house teeth whitening procedures that use a higher concentration of peroxide. Just like sensitivity in the teeth, this negative effect of teeth whitening is also short-lived and the tissues return to health in a few hours.
Another lesser considered side effect of teeth whitening is the undesirable results. The result of teeth whitening depends upon the initial shade of your teeth. But, the final result of teeth whitening is unpredictable and many a time, patients are unhappy with the final shade of their teeth.
If the shade of your teeth is very dark, it may take many sittings of teeth whitening to get a lighter shade. Also, it is important to note that any crown, implant, veneer, or filling doesn't get affected by teeth whitening.
Is Teeth Whitening Safe?
Summarising what we just read, teeth whitening is safe for you. Before getting a teeth whitening procedure, your dentist will evaluate the conditions of your teeth and suggest the best type of teeth whitening procedure for you.
At our Sabka Dentist clinics, we perform teeth whitening procedures using world-class, safe materials. Looking to get a dazzling, bright smile makeover? Visit your closest Sabka Dentist clinic today!
References
Expert Opinion