Root Canal Treatment Clinics in Bangalore
Whenever the pulp of the tooth is infected, it can be treated with root canal treatment. In root canal treatment the infection in the pulp is removed and the canal is filled with proper dental fillings. A crown is then placed after a proper root canal treatment. In Bangalore, you can visit any of the Sabka dentist branches to get the necessary root canal treatment.

Reasons for Root Canal Treatment in Bangalore
Abscess: If a tooth becomes abscessed, root canal treatment will be required. An abscess may either be pulpal or periodontal in origin. Periapical abscess is formed when the pulp of the tooth becomes infected and inflamed, allowing pus to accumulate in this area of dead nerve tissue (nonvital pulp), that is infected with bacteria. Sometimes the abscess will form a bump or pimple on the outside of the gums. The patient may be able to notice pus draining from the pimple or even notice a bad taste in the mouth. An abscess that is untreated will continue to grow in size and infect the surrounding bone around the root of the tooth. Extensive periodontal disease may be responsible for periodontal abscess. Periodontal abscesses can be painful, and require different treatment other than root canal treatment which is required for most cases of periapical abscess.
Deep cavity

: If tooth decay extends deep into the tooth, such that it reaches the pulp, the pulp will become infected with bacteria. When this happens, the pulp will either become inflamed and painful or it will die and become decayed tissue. Sometimes, there may be no pain. This will mandate root canal treatment where this decayed tissue is removed and replaced with gutta-percha.
Trauma: During an accident, a tooth can get traumatized. It can cause the nerve to get severed at the end of the root and the tooth may become nonvital. This could follow immediately after the traumatic incident, or it may happen following many years since the trauma.
Fracture: A tooth that has become fractured may need root canal treatment if this fracture is deep, such that it approaches or involves pulp. If a tooth has fractured in a way that doesn't leave sufficient tooth substance above the gum line for placement of crown or any other restoration, root canal treatment may need to be performed, so that core and post can be placed to help retain the restoration.
Resorption: Tooth structure may get resorbed as a reaction to any injury, fracture/trauma, tooth replantation, or aggressive tooth movement during orthodontic treatment. If the defect initiates from the external surface of the root and goes inward, it is called external root resorption. If the tooth resorbs from the middle or the inside of the tooth to progress towards the outside root surface, it is classified as internal root resorption. In either situation, the resorption can involve the pulp canal and its vital nerve supply. If this occurs, the tooth needs root canal treatment in combination with specialized conditioning and repairing of the defect as soon as possible before the resorption destroys more amount of tooth structure. The defect is mostly repaired with mineral trioxide aggregate (MTA). Resorption is insidious in nature, usually causes no pain and can be diagnosed with the help of X-rays .
Repeated dental procedures: Repeated dental procedures on the same tooth can produce stress on a tooth and can cause the pulp of a tooth to become inflamed. Electric Pulp Test can help to determine whether the pulpal inflammation is reversible or irreversible. Irreversible pulpitis needs to be treated by endodontic treatment.
Procedure involved for the root canal treatment in Bangalore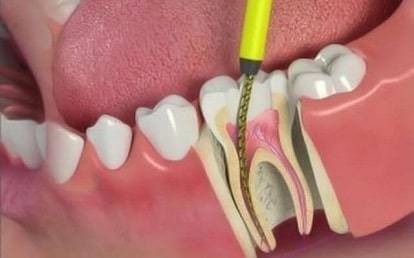 The dentist will examine the tooth with the help of an X-ray. Checkup and X-ray consultation is free of cost at Sabka Dentist in Bangalore.
If the dentist decides that the tooth requires root canal treatment, then local anesthesia is administered in the beginning itself to counter dental pain.
After the tooth is numb, the endodontist/Root canal dentist will perform isolation of the tooth to be treated. Tooth can be isolated with protective sheet called "rubber dam" to keep it clean and dry from saliva.
The dentist will then make use of handpiece to drill and gain access to the inside of the tooth.
Next, the dentist will use endodontic files to remove the diseased pulp tissue from the inside of the tooth. Files are used to shape the inner pulp chamber and root canal followed by irrigation with saline and sodium hypochlorite to wash away any remnant pulp, to kill any remaining bacteria and reduce the risk of any even more infection.
Once the chamber is thoroughly cleaned and dried, the endodontist/Root canal dentist will fill it with an inert and biocompatible rubber-like material called 'gutta percha'. The dentist will close that opening in your teeth using a momentary filling for a few days, until permanent crown is ready.
Once the root canal treatment is done you will need to visit the clinic again to have a crown fitted to protect the tooth.
What should one expect after Root canal treatment in Bangalore?
Following the completion of Root canal treatment in Bangalore, the tooth may feel very sensitive sometimes as a result of natural tissues inflammation, particularly if there is pain or infection just before the procedure.
This level of sensitivity or discomfort can commonly be managed with over-the-counter analgesics as approved by simply our dentists after Root canal treatment in Bangalore. The majority of patients are able to return to their regular activities the next day.
Maintaining good oral hygiene is essential, with the habit of regular brushing.
It is highly recommended to not eat or drink anything for several hours after the root canal treatment since the treated region is numb. There happen to be chances of accidentally biting on your teeth or tongue while chewing because of momentary loss in sensation. One will be able to eat properly after the numbness wears off.
Keep away from hard and crunchy foods for a few days after a root canal treatment is done.
Chances are that some of the temporary filling can wear off in between appointments. If the entire filling wears off, then you may need to consult the dentist immediately.
What is the cost of Root canal treatment in Bangalore?
To find the right cost of Root canal treatment in Bangalore, various factors have to be considered. Even so, It happens to be hard to estimate any cost without some fundamental factors.
Sabka Dentist has enlisted a few of the common aspects that can help to determine the ideal Root Canal Treatment cost in Bangalore. The root canal treatment will involve a specific procedure which determines the cost of your treatment.
They are listed below:
Choice of your Dental Surgeon (Novice/Specialist)
The primary aspect of the root canal cost in Bangalore highly will depend on selecting the right dental surgeon for the root canal treatment. In case you are approaching a surgeon who has practised dental treatment only for a year, the costs will be significantly less.
However, in case you are going to a medical specialist who is serving as a dental surgeon with a significant amount of experience (let's say more than a decade), he or she will cost you more for the root canal treatment. Price often depends on the experience and skill of the surgeon.
X-Rays and Consultation Charges
Consultation fees also can vary based on the doctor's working experience, expertise and the location where the clinic is situated. The root canal cap cost in Bangalore will be different in comparison with cities like Mumbai / Delhi.
The cost for the X-rays can also add up to the total cost of root canal treatment.
Anaesthesia and some other needed medications
Anaesthesia numbs the region of treatment, and also this price associated with it often will depend on how many times the anaesthesia is given for the treatment.
Root Canal location (Front or Back)
The root canal done on the tooth in the front portion of the mouth (front teeth) will charge you much less because it contains 1-2 roots, whereas it will charge you more if it's done on the tooth in the back of the mouth (bicuspid and molar) because it contains much more roots/canals.
Level of damage
This is also a prime aspect which decides the root canal treatment cost. If the damage is less, the price for the root canal treatment would also be less.
Book an Appointment for Free Checkup and Consultation
How painful is Root canal treatment in Bangalore?
Root canal procedures have the notoriety of being painful. However, with the administration of local anesthetic, it is a painless procedure.
Are there any side effects of the Root canal procedure?
Occurrence of pain after root canal treatment, which is not relieved by painkillers. Re-endodontic treatment will have to be performed if the previous endodontic treatment fails.
At times, due to faulty instrumentation, there could be a micro-crack in the root of the tooth, which may not get noticed by the endodontist/Root canal dentist. If so, the crack can become a portal for bacteria and infection.
The crown prosthesis may become dislodged at times, thus exposing the seal on the tooth. This may leave a way for the bacteria to enter and infect the tooth again. If the crown dislodges, you should get it fixed immediately.
Tell Me More About Getting A Dental Implant At Sabka Dentist, Bangalore
Sabka Dentist is one of the best dental clinics in India which specializes in performing various dental procedures, like root canal treatment. The medical center was initially established in October 2010 with just one clinic at Vile Parle.
However, right now Sabka Dentist has more than 100 clinics across different cities in India – namely Mumbai, Pune, Ahmedabad, Surat, Bangalore, Navi Mumbai, and even Thane.
Root canal treatment is amongst the most efficient treatment procedures which can relieve dental pain and also save a very decayed tooth. In this process, the dentists eliminate affected nerves and also pulp of the tooth carefully and then seal this.
If the condition remains untreated, then there are possibilities that the neighbouring tooth could also get affected. Sabka Dentist has the skilled and experienced team of dentists who definitely are dedicated to offering the professional services and spread out smiles across India.
This is probably the only reason that one could find Sabka Dentist on the top of the list of dental hospitals that offer root canal treatment.
How Root Canal Treatment is executed at Sabka Dentist?
The teeth root canal treatment is executed in three steps, and almost all of the dental surgeons follow this process in three different sessions. But due to the specialized root canal dentists, staff and also advanced facilities offered at Sabka Dentist, this RCT treatment procedure can be completed in just a single session.
The dentist first administers local anaesthesia to your treatment area to minimize root canal treatment pain as well as make the spot numb. Then a tiny hole is created on the surface of the tooth to eliminate the damaged nerves and dead pulp.
Next, the root canal dentists at SabkaDentist clean and reshape the decontaminated hollow area. This specific hollow empty canal is finally filled with a dental filling in order to seal off the root canal completely, thus finishing the root canal treatment. Right after this, the tooth is absolutely lifeless and has no sensation.
At last, in order to safeguard this particular lifeless brittle tooth, a crown might be placed on the dead tooth to ensure that the patient can use the tooth just as before.
The root canal treatment cost in Bangalore widely can vary individually for each person depending on the seriousness of the problem. However, Sabka Dentist offers a few of the best root canal treatment costs in India.
And so, the next time if you are planning to get an RCT treatment, think about Sabka Dentist as your first option to take care of your dental complications and keep smiling.
JP Nagar
No. 123, 1st Floor, 24th Main, Opp Royal High School, Next to WE Fitness Gym, 5th Phase, JP Nagar, Bangalore – 560078
Jayanagar
1st Floor, Diamond arcade, 38th D Cross, 11th Main, Opp Airtel Gallery, Next to Vijaya College, 4th Block, Jayanagar, Bangalore – 560011
HSR Layout
No. 803, 27th Main, 12th Cross, Opp Kaya skin clinic, Near HSR police station,1st Sector, HSR Layout, Bangalore – 560102
Koramangala
No.429, 80 feet road, Opp National games village, Near Koramangala bus depot, 6th Block, Koramangala, Bangalore – 560069
Rajaji Nagar
Ground Floor, Chirag Plaza, 63-B, 10th Main, Next to ESI Hospital, Ram Mandir Road, 4th Block, Rajaji Nagar, Bangalore – 560010
Malleshwaram
No.58, Ground floor, 6th Cross, Next to A2B, Sampige road, Malleshwaram, Bangalore – 560003
BTM Layout
1st Floor, No.773,7th Cross,16th Main,BTM 2nd Stage,Near Mcdonalds,Bangalore 560076
Vijayanagar
No. 45, 17th Cross, MC Layout, Vijayanagar, Bangalore – 560040
HRBR Layout
218, Antonite Sunshine Complex Kammanahalli Main Road, Above Reliance Footprint , HRBR Layout Bangalore 560043
Whitefield Main Road
No. 364, Gurushree Tower,3rd Cross, Whitefiled Main Road, Opp. Unilever R & D Center, Next to Food World, Whitefiled, Banglore 560066
HSR Layout BDA Complex
No. 59/101/A, 1st floor, 17th Main Sector 6, Opp Icici bank Sector 7 branch and Lenskart , HSR layout, Bangalore: 560102.