Very often, most people would like to know the cost of dental treatment before proceeding. Dental implants are such a treatment that people would certainly like to know the exact prices before proceeding.
Dental implants are treatments where the artificial tooth is put in place of the missing tooth. It helps to restore the aesthetic nature of the teeth. However, dental implants prices would vary greatly depending on several factors.
Your dental expert will take a proper examination of the tooth structure to give a proper dental implant solution along with its prices.
What factors affect dental implants prices?
Here are a few of the factors on which the prices of dental prices depend:
Number of dental implants needed
The prices will depend on the number of dental implants needed. If there is one tooth missing, then you will need a single dental implant. However, if there are multiple teeth missing then the number of dental implants needed will more that can certainly increase the rates.
Material needed for dental implant
Dental implants are generally made of titanium material for the root part and ceramic material for the upper part of the crown. In some cases, patients can get access to the alternative of Zirconia for titanium material. So, depending on the dental implant material, prices may vary.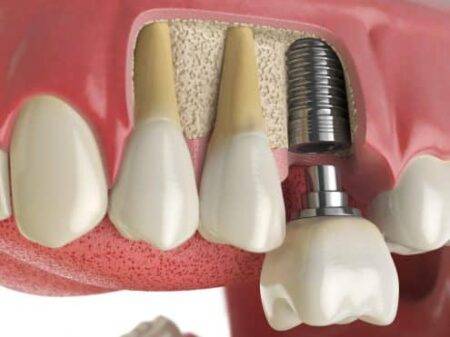 Other tooth adjustment cost
In most cases, there is a need for some sort of adjustments in the nearby teeth for proper fitting of the dental implants. There may also be a need for some bone grafting for dental implant treatment. So, depending on the adjustments needed, the cost of the dental implant treatment can vary.
Overall oral health of the patient
The overall oral health of the patient also affects the dental implant costs. In some cases, the patient may have trauma, jaw infections, gum disease, infected pulp, etc.
In all these cases, the patient will require different other types of treatment methods. So, depending on the complexities, the prices of dental implants can vary.
Sabka Dentist has a very affordable range of dental implants prices which range from Rs.31,000/- to 38,000/- depending on different factors. Here, you can also get the option of payments on an installments basis to make it more comfortable for the patients.