Dental Clinic in Dadar East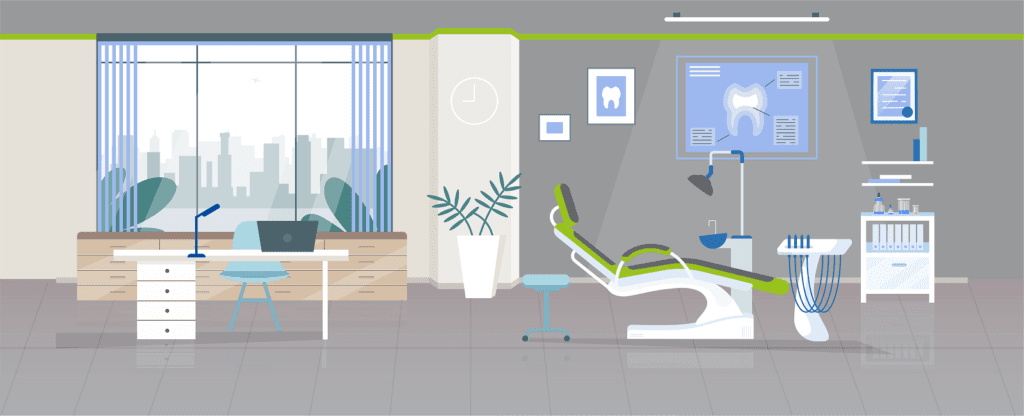 About Sabka dentist in Dadar East
The first thing people notice about you is your pearly white smile, whether you realize it or not. This is why you want to ensure that your teeth are looking best at all times. Brushing and flossing your teeth every day can ensure that you are flashing everyone with your very best smile.
To achieve all this, visit the dental clinic which provides you best dental treatment with the best services. Sabka dentist family has been serving its level best since 2010 and looks forward to providing world-class treatment in the future also.
Sabka dentist in Dadar East is one of the branches that provides free dental check-ups and X-rays so that every patient visiting the clinic for checkup keeps their teeth and gums healthy. Also, our dentist examines the oral health of patients and makes recommendations if needed.
We, at Sabka dentist in Dadar East, provide the best dental facilities like EMIs option, dental hygiene, most affordable treatments, new technology, and calm and pleasant environment, etc. also provide a welcoming and warm ambiance to have dental treatments.
Dental Treatments provided at Sabka dentist in Dadar East
Checkup and consultation:

At Sabka dentist in Dadar East, we provide free dental check-ups and X-rays with affordable treatments. Our experts recommend every patient to do dental checkups every six months which helps to keep their teeth and gums healthy and maintain their oral hygiene.
Teeth Whitening:

Many people feel shy to smile because of their yellow and discolored teeth. Teeth whitening is the solution to the problem. It lightens the teeth and gives a bright smile. It is one of the best cosmetic procedures to get rid of stained and discolored teeth. It is not a one time process, it needs to be repeated from time to time to lighten the teeth and maintain white. While undergoing teeth whitening procedure, you should avoid the drinks and foods which stains the teeth. Patients need to brush their teeth twice a day or after the meal to avoid damage teeth.
Dental veneers:

To improve the appearance of teeth and give a bright smile, dental veneer is one the best option. It is a thin layer of porcelain bonded to the tooth surface and covering over the front tooth with minimal preparation to make chipped tooth look whole again.
Teeth cleaning, scaling and polishing:

Dentists clean around the gum line on the front and back of the teeth to remove calculus, plaque, and tartar which covered the tooth surface that causes bacteria to the teeth. This bacterial product leads to gum diseases like tooth decay, toothache, etc. Our dentists in Dadar East recommend each patient to do cleaning/scaling every 6 months to maintain healthy gums. Regular visits for check-ups help to keep the teeth and gums healthy. Also, preventive measures are taken to get rid of dental problems in the future. Polishing follows after cleaning to smoothen the teeth surface.
Dental implant:

Implants are the replacement of missing teeth. It is the procedure of 3 stages to replace your teeth. The first stage is to screw or place the implants into the jawbone. The second stage is to place the abutment on the implant but before heading to this process, implant into the jawbone takes time to heal (osseointegration). Then the final stage is to fit the crown on the top of the abutment.
Dental crown:

It is also known as a cap. Crown is used to cover the missing tooth and also while undergoing implant treatment. Reasons behind fitting of crowns like patients may have had root canal treatment, cracked tooth, to cover the stained tooth and badly shaped tooth to give a good smile. Crowns can be made from many materials like metal, ceramic, etc.
Root canal treatment:

Root canal is a treatment to repair and save an inflamed and infected tooth instead of extracting it. The damaged and infected teeth cause toothache, swelling, tooth decay, and sensitivity, etc. The root canal treatment removes the pulp inside the infected tooth and places a filling to seal the space. Decades ago, Root canal treatment was painful. But now, with dental advances and local anesthetic patients realizes little any pain. If RCT is not done, the infection will spread and the tooth will be extracted. At Sabka dentist in Dadar East, we also have endodontic specialists to provide the best root canal treatment combined with the best equipment.
Orthodontic Treatment:

Orthodontic treatment requires to fit the misaligned teeth to its proper position. It also requires to correct the bite. When the teeth don't meet properly it affects the bite, and also causes strain on the jaw muscles which leads to headache. To reduce the muscle strain, our dentist in Dadar East suggests patients to apply braces who have crowded or crooked teeth which helps to meet the teeth correctly. Braces are attached to the teeth surface to shift the misaligned teeth to its proper position. We provide a variety of options for braces like metal brackets, ceramic brackets, and 3m metal brackets, etc.
Oral Surgery:

Our dentists will indicate extraction/ removal of tooth if the tooth is mobile, grossly decayed or if there is any other reason. We also have Oral Surgeons who are efficient in performing other oral surgeries like extraction of impacted wisdom tooth, surgery required for implant insertion, etc.
How to find a dentist ?
The best way to maintain a beautiful smile is to visit your dentist regularly. Usually, dentists recommend patients to visit dental clinic every six months. This will help your dentist identify any issues before they become serious problems.
Also, with regular cleanings, your teeth and gums will be as healthy as possible. But to select the best dentist is the concern. Many people who are new to an area and search for the best dentist, they usually ask their family, friends, and colleagues or search on the internet to find the best dental clinic near them.
Sabka dentist leading with one of the largest chains of dental clinics in India with more than 100 clinics across major cities in India namely Mumbai, Pune, Ahmedabad, Surat, and Bangalore. We, at Sabka dentist, provide the best dental treatment by our well-trained experts combined with the best equipment.
Sabka dentist in Dadar East is one of them which provide excellent treatment with the best services. We always endeavor to achieve the patient's expectations and provide treatments in a comfortable environment. We, At Sabka dentist in Dadar East, always take care of dental hygiene while undergoing treatments.
So don't wait until the dental problem arises, taking action before will save time, money and inconvenience.
How can Sabka dentist in Dadar East help?
Sabka Dentist is the largest chain of Dental Clinics in India, with more than 100 successful clinics running in Mumbai, Pune, Surat, Ahmedabad, and Bangalore. We have a team of more than 550 excellent dentists.
We focus on preventive, restorative, and cosmetic dentistry. We provide free consultation and X-rays, so far we have treated over 1,50,000 RCT, 1,60,000 Prosthetics, and many more good credentials are on its way.
Our post-treatment follow up team communicates with patients to ensure good patient compliance and clinical results. It is reinforcing to receive patient feedback. We value and appreciate each feedback. We Sabka dentist in Dadar East we endeavor to provide good treatment with good ambience, well-trained and qualified staff, and high accountability.
We always make sure that each patient leaves our clinic with a bright smile.
Tell me more about Sabka Dentist, Dadar East
In case you are particular about your dental care, you must select the best when it pertains to dentistry checkups and treatments. Sabka Dentist is consistently rated as one of the best dental clinics in Dadar East, Mumbai.
At Sabka Dentist, people not just receive world-class treatment for their dental troubles, but also, get to enjoy one of the greatest in-clinic patient experiences across India.
No matter the background or occupation of an individual, we make certain that all of our patients feel comfortable and experience absolutely no concerns when approaching or conveying their oral problems across to our dental surgeons.
We are amongst the top dental clinic chains in Dadar East, Mumbai, and have a legacy that is unmatched by any other dental clinic in Dadar East, Mumbai, India. Our dentists are undoubtedly some of the best dentists in Dadar East, Mumbai.
Sabka Dentist often makes it to the list of best dental hospitals in Dadar East, Mumbai, owing to our amazing team of dental specialists and surgeons, and advanced facilities within our dental clinics.
Sabka Dentist was launched way back in October 2010, with a single clinic in Vile Parle. Currently, we have grown to around more than 100 clinics in Mumbai, Pune, Ahmedabad, Surat, Bangalore, Navi Mumbai, Thane.
Our team at Sabka Dentist works to encourage better dental health and aid people to feel and look good and proudly carry their smiles. No wonder, due to our team's perseverance and vision to help spread smiles across the world, we have frequently made it on the list of top dental hospitals in Dadar East, Mumbai.
Therefore, the next time you plan to visit a 'teeth hospital in Dadar East', Mumbai, we should be at the top of your list of dental hospitals in Dadar East, Mumbai.
Consider us your own 'Sabka Dentist'; our dentists are some of the best dentists in Dadar East, Mumbai, and we can help you with your tooth concerns so that you can continue to spread happiness across with your wonderful smile.