Address: Shop No 6 Sunny Estate building no 2 Sion Trombay Road Chembur East Near to IDBI bank, Opp Dena bank, Near to Diamond Garden , Mumbai, Maharashtra – 400071
Monday – Saturday 11 AM – 8 PM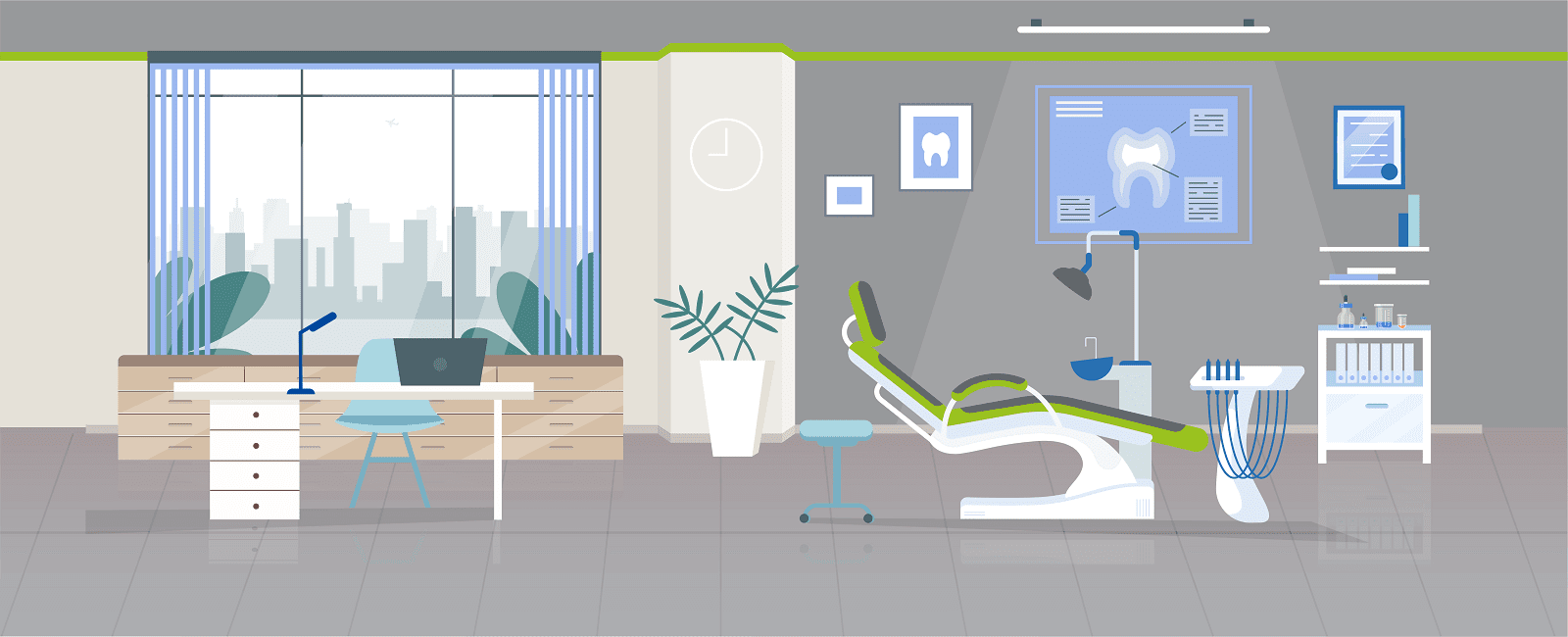 About Sabka dentist in Chembur
Many people have sort of fear when it comes to visiting the clinic for dental treatment. But, it becomes much worse when they don't practice good dental care. To take care of your oral health our dentist in Chembur suggests every patient brush their teeth twice a day and visit the clinic twice a year for regular dental checkups.
We, at Sabka dentist in Chembur, provide world-class dental facilities like dental hygiene, affordable treatment, EMIs facility, latest technology, convenient places and hours, good and friendly staff, a warm ambience, and well-trained experts to provide dental treatment in a calm surrounding.
At Sabka dentist ,dental clinic in Chembur, 9 hours a day (12 pm to 9 pm) under the consistent effort of our dentist and staff members who have qualified with professional training. We always make sure that every patient walks out of our clinic with a bright and cheerful smile.
Dental Treatments provided at Sabka dentist in Chembur
Checkup and consultation:

At Sabka dentist in Chembur, we provide free dental check-ups and X-rays with affordable treatments. Our experts recommend every patient to do dental checkups every six months which helps to keep their teeth and gums healthy and maintain their oral hygiene.
Cosmetic Dentistry

Dental veneer:
Dental veneer is a thin cover that is bonded to the tooth's surface with minimal preparation to improve aesthetics. Veneers can change the shape, size, and color of the teeth. It makes the chipped tooth look whole again. Indications for veneers are discolored teeth, broken teeth, malformed teeth, fluorosis, etc. Veneers look beautiful and natural and can last for more than 10 years. Our dental clinic in Chembur offers the option of Ceramic and Composite Veneer.
Teeth Whitening:Many people feel shy to smile because of their yellow and discolored teeth. Teeth whitening is the solution to the problem. It is one of the best cosmetic procedures to get rid of stained and discolored teeth. It is not a one time process, it needs to be repeated from time to time to lighten the teeth and maintain white. You need to change your old habits to keep your teeth white.
Teeth cleaning, scaling and polishing:Dentists clean around the gum line on the front and back of the teeth to remove calculus, plaque, and tartar which covered the tooth surface that causes bacteria to the teeth. This bacterial product leads to gum diseases like tooth decay, toothache, etc. Our dentists in Chembur recommend each patient to do cleaning/scaling every 6 months to maintain healthy gums. Regular visits for check-ups help to keep the teeth and gums healthy. Also, preventive measures are taken to get rid of dental problems in the future. Polishing follows after cleaning to smoothen the teeth surface.
Replacement of missing teeth:

Dental implant: Implants are the replacement of missing teeth. It has 3 stages to replace your teeth. The first stage is to screw or place the implants into the jawbone. The second stage is to place the abutment on the implant. Then the final stage is to fit the crown on the top of the abutment.
Dental crown:

It is also known as a cap. Crown is used to cover the missing tooth and also while undergoing implant treatment. Crowns can be made from many materials like metal, ceramic, etc.

Implant-supported over dentures:It is a fixed denture from the support of implants.
Root canal treatment: Root canal is a treatment to repair and save an inflamed/infected tooth instead of extracting it. The inflamed and infected teeth cause toothache, swelling, tenderness of teeth by touching, etc. The root canal treatment removes the pulp inside the infected tooth and places a filling to seal the space. Decades ago, Root canal treatment was painful. But now, with dental advances and local anesthetic patients feel very little pain. At Sabka dentist in Chembur, we also have endodontic specialists to provide the best root canal treatment combined with the best equipment.
Orthodontic Treatment: Orthodontic treatment is the best option to straighten misaligned teeth, correct the bite and give a bright smile to the faces. When the upper and lower jaws do not fit properly then it affects the bite. Misalignment of the teeth or jawbone can cause serious dental problems later on. Our dentist in Chembur suggests patients to apply braces who have crowded or crooked teeth which helps to meet the teeth correctly and reduces the jaw muscle strain. Braces are attached to the teeth surface to shift the misaligned teeth to its proper position. We provide a variety of options for braces like metal brackets, ceramic brackets, and 3m metal brackets, etc.
Oral Surgery: Our dentists will indicate extraction/ removal of tooth if the tooth is mobile, grossly decayed or if there is any other reason. We also have Oral Surgeons who are efficient in performing other oral surgeries like extraction of impacted wisdom tooth, surgery required for implant insertion, etc.
How to choose the right dental clinic?
To maintain oral hygiene, every dentist suggests visiting the dental clinic every six months.
But selecting the best clinic is the concern. Many people who are new to an area and searching for the best dental clinic, would usually ask their family, friends, and colleagues or search on the internet to find the best dental clinic near them.
Sabka dentist is leading as one of the largest chains of dental clinics in India with more than 100 clinics across major cities in India namely Mumbai, Pune, Ahmadabad, Surat, and Bangalore. We, at Sabka dentist, provide the best dental treatment by our well-trained experts combined with the best equipment.
Sabka dentist in Chembur is one of them which provide excellent treatment with the best services. We always endeavor to achieve the patient's expectations and provide treatments in a comfortable environment. We, At Sabka dentist in Chembur always take care of dental hygiene while undergoing treatments.
So don't wait until the dental problem arises, taking action before will save time, money and inconvenience.
How can Sabka dentist in Chembur help ?
Sabka Dentist is the largest chain of Dental Clinics in India, with more than 100 successful clinics running in Mumbai, Pune, Surat, Ahmedabad, and Bangalore. We have a team of more than 550 excellent dentists. Our Dentists in Chembur are experts from the best dental institutes and hospitals in India.
At Sabka Dentist in Chembur, we believe in creating beautiful smiles and provide the best possible solutions. We focus on preventive, restorative, and cosmetic dentistry.
Our post-treatment follow up team communicates with patients to ensure good patient compliance and clinical results. It is reinforcing to receive patient feedback. We value and appreciate each feedback. We believe that Smiling customers are happiest!
Tell me more about Sabka Dentist, Chembur
If you are particular about your dental care, you must select the best when it pertains to dentistry checkups and treatments. Sabka Dentist is consistently ranked as among the best dental clinics in Chembur, Mumbai.
At Sabka Dentist, people not just receive world-class treatment for their tooth troubles, but will also get to enjoy among the finest in-clinic patient experience across India.
Regardless of the background or occupation of an individual, we make sure that all our patients feel at ease and experience absolutely no problems when approaching or conveying their oral health issues across to our dental specialists.
We are amongst the top dental clinic chains in Chembur, Mumbai, and have a legacy that is unparalleled by any other dental clinic in Chembur, Mumbai, India. Our dentists are undoubtedly some of the best dentists in Chembur, Mumbai.
Sabka Dentist consistently makes it to the list of best dental hospitals in Chembur, Mumbai, owing to our great team of dental experts and surgeons, and state of the art facilities within our dental clinics.
Sabka Dentist was started way back in October 2010, with a single facility in Vile Parle. Now, we have grown to around more than 100 clinics in Mumbai, Pune, Ahmedabad, Surat, Bangalore, Navi Mumbai, Thane.
Our team at Sabka Dentist constantly strives to encourage better dental health and aid people today to truly feel and look good and proudly carry their smiles. No wonder, resulting from our team's dedication and vision to help spread smiles across the world, we have consistently made it on the list of top dental hospitals in Chembur, Mumbai.
So, the next time you plan to visit a 'teeth hospital in Chembur', Mumbai, we should be at the top of your list of dental hospitals in Chembur, Mumbai.
Consider us your own 'Sabka Dentist'; our dentists are some of the best dentists in Chembur, Mumbai, and we will help you with your dental troubles so that you can carry on and spread joy and happiness across with your wonderful smile.