Dental Clinics in Navi Mumbai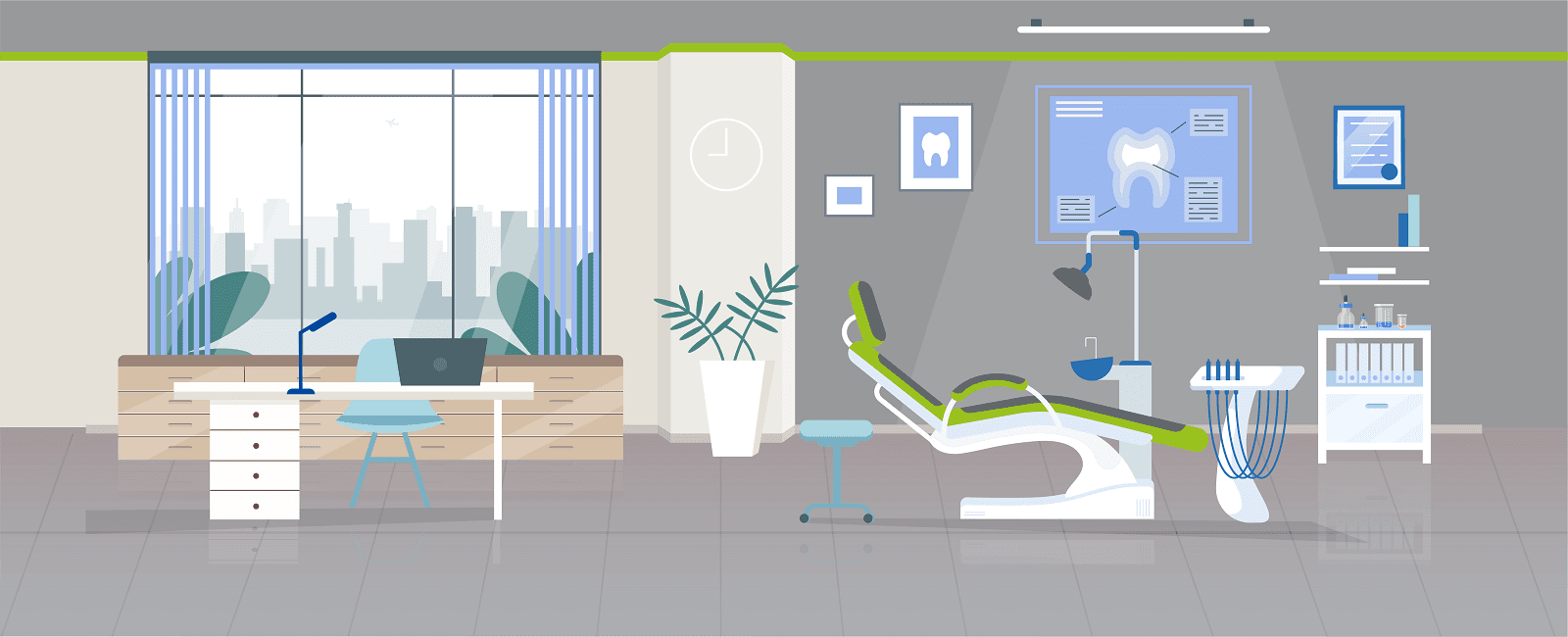 Sabka dentist Dental Clinic in Navi Mumbai promises to deliver high-quality dental treatments in a clean and hygienic environment. Sabka dentist in Navi Mumbai provides all kinds of dental treatments including cosmetic, implant, conventional and preventive dentistry.
We try to make dentistry available, accessible and affordable for the common man. We are dedicated to quality care, a pleasant experience and putting our patients first. We practice advanced dental techniques to protect, maintain, improve and create beautiful smiles.
We make Dental Treatment accessible by innovatively engaging with consumer finance companies and banks to provide dental treatments which can be paid in 0% interest EMI Options.
The Sabka dentist dental clinic in Navi Mumbai is designed for patients who seek specialized, quality dental care on par with international standards. With advanced high-tech equipment, high sterilization standards, and experienced dentists, you can be assured that your dental visit will be performed in a quality, efficient and safe manner. We have a specific methodology of treatment wherein we aim to provide our patients with complete information regarding the treatment offered.
The Sabkadentist Navi Mumbai dental clinic's staff is comprised of top dentists, providing general dentistry, periodontics (gum treatment), endodontics (root canal therapy), orthodontics (braces), and cosmetic dental treatments including porcelain veneers and dental implants. We have a full range of well-trained auxiliary dental staff and strive to provide our patients with personalized dental care and the opportunity to improve dental health, with an emphasis on prevention.
We aim to be the best dentists in Navi Mumbai by maintaining the highest standards and creating a friendly and healthy environment with our patient comfort and satisfaction as the top priority.
We welcome you to schedule an appointment or simply walk into our dental clinic. We follow a consistent, transparent pricing process and accept cash, cheques, credit & debit cards. EMI options are also available. For any major or extensive dental treatments, we can usually provide you with the best payment solution that suits your requirements.
We are the best dentists in Navi Mumbai who take immense care of their patients and ensure that their dental health is up to the mark. All you need to ensure is that you schedule a visit to your dentist at least twice a year.
Regular visits to the Dental Clinic in Navi Mumbai allow you to check your oral health for any sorts of damage and ensure that everything is fine. Dental check-ups are also important as some symptoms are likely to appear in the oral examination as a sign of serious illnesses.
Other parts of the body can be assessed by the individual himself/herself but the same does not hold true in the case of oral health. Thus, dental check-ups are a must.
In case you are particular about your dental health care , you must select the best when in pertains to dental care checkups and treatments. Sabka Dentist is consistently rated as one of the best dental clinics in Navi Mumbai. At Sabka Dentist, people not only obtain top class treatment for their tooth concerns but will also get to enjoy among the best in-clinic patient experiences across India. No matter the background or occupation of an individual, we guarantee that all of our patients feel at ease and experience absolutely no problems when approaching or getting their oral problems across to our dental specialists. We are among the top dental clinic chains in Navi Mumbai and have a legacy which is unparalleled by any other dental clinic in Navi Mumbai, India.
Sabka Dentist frequently makes it to the list of best dental hospitals in Navi Mumbai, owing to our excellent team of dental specialists and surgeons, and cutting-edge facilities within our dental clinics. Sabka Dentist was started way back in October 2010, with a single facility in Vile Parle. Today, we have grown to around more than a 100 clinics in Mumbai, Pune, Ahmedabad, Surat, Bangalore, Navi Mumbai, Thane. The Sabka Dentist team works to encourage better oral health and help men, women and children to truly feel and look good, and proudly carry their smiles. No wonder, because of our team's perseverance and vision to help spread smiles across the world, we have frequently managed to get to the list of top dental hospitals in Navi Mumbai.
Therefore, the next time you plan on visiting a 'teeth hospital in Navi Mumbai', we should be at the top of your list of dental hospitals in Navi Mumbai. Consider us your own 'Apna Dentist'; we can help you with your dental troubles so that you can carry on and spread joy and happiness across with your beautiful smile.

Manisha Gaikwad
14:29 08 Mar 21

Manisha Gunjal
13:43 06 Mar 21
Good treatment but costly..

yallappa dongare
14:21 05 Mar 21

I had a very pleasant experience with Dr. Amrita and her staff. she explains each and every problem in details. Kamothe sabka dentist has taken all necessary covid19 precautions. Thank you Dr. Amrita and staff for the quality treatment you have given me.

Akshay Phadatare
13:59 04 Mar 21
I had a great experience!! ❤️💯Staff and there treatments were best and they guide us so best!! And our doctor and his treatment were also good everything was done on time plus all our doubts and problems were solved!! Tysm sabka dentist!! ❤️

Unnati Singh
08:08 03 Mar 21

Swati Kadu
07:03 03 Mar 21
It was a great experience with sabka dentist and the doctor was also very polite ... 👍

A - 3201 Tushar Jain
11:59 02 Mar 21
Hassle free and smooth experience. Would recommend to others.

Shashikant Prajapati
07:02 02 Mar 21
Experience n Treatment is very excellent. Supporting staff n caring doctor.

Pallavi Dalvi
06:20 02 Mar 21
Absolutely well maintained unit and Dr Mariya has very peaceful and pleasing personality, explains any nature of complication, in absolute lay person terms !!Covid19 protocols are well followed too.I wish the whole team ..Best of Luck for a successful year ahead 😊🙏

I second the reviews written by other patients as far as Dr.Varsha is concerned. She gives an honest and precise consultation, no beating around the bush. Also, I admire her for putting up with a stubborn patient like myself. Dr. Varsha exudes a vibe of genuiness and she comes across as someone passionate about and honest with her job. May Allah bless her and her team in every step of their way.

Nafees Ahmed
13:19 01 Mar 21
Very nice and efficient doctor Varsha. The treatment for any any problem of teeth is done very effectively. Never faced by any issues after treatment of root canal or filling of teeths.

navpreet singh
12:46 27 Feb 21
Doctors and staff are really kind and helpful here, I am doing my teeth straightening treatment through the SD Aligners in sabka dentist and its going great as of now!

67-Ankita Vyas
15:39 26 Feb 21
Waiting for the past 20minuted inspite of having an appointment, the receptionist is non co orperative. N not even checking with doctors how long will it take.Dr Varsha is great though, good treatment.

Prerana Pathare
06:49 26 Feb 21

Sushama Karbhari
15:23 24 Feb 21
Staff is very cooperative...neat and clean clinic...all precautions are there towards covid

deepa parihar
12:31 24 Feb 21
Super hygienic and all the covid protocols are been followed strictly. Doctor as well as staff are very sweet and helpful.

Sagar Gavali
07:10 23 Feb 21
Satisfied with the treatment done by Dr. Amrita Jha.

ramadevi menon
07:51 22 Feb 21
Reasonably good services at reasonable prices.

The clinic is very neat followed all protocol for covid. The staff are very approachable and doctor are very helpful. My only advise is that every chair should be covered fir privacy of the patient. Hope they cover each cabin

elysh dsouza
09:16 21 Feb 21

Machinder Patil
10:02 18 Feb 21
I had gaps between my teeth and I had an ortho treatment for 2 years and I was treated by Dr. Ansil. I had a very good experience here. The receptionist are also very nice as they informed the patient's if they have any appointments regarding their treatment. Do visit here guys!!!

Mahesh Umbrajkar
13:08 17 Feb 21
The staff and the dentist is very friendly and give details to the point and minor details.. and good part is no consultant fee for the first checkup

Trupti Sahu
07:47 17 Feb 21
Very professional, polite attitude and provide complete clarity on the concern. Pricing is excellent too.

Nachiket Deshpande
11:25 13 Feb 21
Overall, a good experience.


Sunita Patil
07:06 11 Feb 21

RANI MISHRA CHANEL
08:03 09 Feb 21
The doctor Mariya is nicely explaining the problems in teeth & treatment to be taken. Good experience would like to go for tooth treatment here.Thanks

Rekha Shetty
12:57 06 Feb 21
I visited for in Aug/ Sep 20 for 1 root canal & 3 fillings. Dr. As well as staffs were efficient and cooperative. I am impressed.

ASHOK SINGH
11:05 06 Feb 21

chandu naynekar
13:45 05 Feb 21
The staff takes extra safety measures and maintain the hygiene norms. The doctor is understanding and genuine. I definitely recommend this

Excellent service and cooperative staff.

souvik ghosh
14:02 28 Jan 21
Excellent service at sabka dentist by expert Dentist and nursing staff...

Naresh Rajpurohit
06:02 28 Jan 21
It is a very nice clean and comfortable place. The staff is very professional and helpful. They follow all the necessary guidelines for COVID.

Vimla Vijan
12:02 25 Jan 21
Professional service. Confirmation of appointment by call. Sometimes they don't give alternative option but to remove decayed tooth

Nishant Ponkshe
06:42 25 Jan 21
Generous team and the optimistic atmosphere were particularly effective aspects which I appreciated greatly. Relished the way doctor addressed the patients. Sabka dentist is exceptionally good and would recommend to everyone having dental issues.

1935 Sakshi Khanorkar
07:21 24 Jan 21
It is one of the most safest dental clinic in New panvel. Total hygiene maintained during these COVID days. Friendly staff. Doctor Anupama attended me. She was very caring and friendly. Good treatment received with all safety measures.

Tanvi Ayyanchira
15:02 23 Jan 21
It was nice experience with Sabka dentist kopar khairane. Staff was very helpful and polite. Happy with treatment, will definitely recommend Sabka Dentist.

Ankita Dalvi
13:54 23 Jan 21
Sabka Dentist is very good place for all dental problems. They're very good in knowledge about treatments & new procedures. Dr.Rajshree is very humble, nice & helpful. The treatments are pocket friendly also.

Very helpful doctors and staff.

Lokesh Garg
13:57 21 Jan 21
Hats off to Dr Mariya and Team, was scared to go for Capping but the way they have handle me, the whole process was painless.Thank you Dr.Keep up the good work.

Mayur Satale
13:37 21 Jan 21
For any dental query THE BEST PLACE to visit

sonali shinde
12:57 21 Jan 21
Amazing staff, and good service. I like the way of interaction they have with the client.

himanshu bhatt
07:39 21 Jan 21

Sahil Patil
06:09 21 Jan 21
Services are good. Genuine advice provided by the doctor.Highly Recommended !

niharika kishor
12:44 20 Jan 21
Its a very hygienic clinic with very good staff and doctors.I got my braces treatment done here...all my teeth are now straighten and i look a lot better with amazing smile....kudos to sabka dentist....

Rasika Dhamane
10:31 19 Jan 21

Haiderali Sayani
07:42 19 Jan 21
Dr. Amrita has been excellent for my dental work for the past 2 years. This Kamothe location has maintained great hygiene and overall disinfection procedural follow-up during the tough COVID phase. I recently got my Root Canal Treatment done at this clinic and Dr. Amrita and her staff has been amazingly professional throughout all my treatment sessions.Thank you Dr. Amrita and your staff.

Mukesh Sutar
18:43 18 Jan 21
Best staff they take follow-up and arrange a appointment as per our convenience time i specially thanks to Mrs. FATEMA from Nerul west branch she really take care of patients appointment nicely happy with services 😀 😊.

muskan begam khan
13:44 18 Jan 21

Vinod Kumar
11:38 18 Jan 21
Excellent counseling, cooperative staff, knowledgeable doctor and best receptionist.Must visit clinic in kharghar

Ajay Dubal
08:33 17 Jan 21
My Name Dinesh Suvarna,Highly appreciated, The Team in sector 2 kharghar, Navi Mumbai.1) Dr in this clinic, very dedicated in her Job with her patients, always attentive with your querry and advises, Hats off to her, Best of luck.2) Receptionist, Very caring, convincing, a good welcome jestur. Keep it up. And best of luck.

D stupid 786
08:29 17 Jan 21
My experience at sabkadentist kamothe it was really good for me the staff was polite and I was treated under doctor Amrita Jha. Thanks

alex chaudhary
07:02 16 Jan 21
One of the best clinic.eco friendly

Balagopal Nair
09:00 15 Jan 21

Pankaj Jadhav
13:53 14 Jan 21
Nycc one very politely talking with patients and understanding level is so great 👍. Very reasonable service towards patient.

vedant nalawade
12:49 14 Jan 21
Very professional. Made me feel extremely comfortable during the treatment.. Would suggest this to others too.

Good quality of treatment I m getting here. I will strongly suggest everyone to visit sabka dentist for treatment. All doctors n satff are very cooperative. . Thank you

vidhya patade
12:56 12 Jan 21
Thoroughly professional approach by Dr.Mariya Deshmukh.Highly recommended.

Baboo Varughese
07:56 12 Jan 21
Amazing service by all the staff members!Thank you Dr for your proper consultation ♥️Impressive work💜

Nice sabka dentist sec 8 kharghar and their staff it's hygiene maintain very well..

sarita walunj
12:45 11 Jan 21
Mainting all necessary safety precautions for covid.

Chetan Gaikwad
12:41 09 Jan 21
Very Professional Doctors and staff.👍👍

Ahlua Walia
09:22 09 Jan 21

Supriya Shinde
15:09 07 Jan 21
Visited today for cleaning but I am very surprised and blessed that dr.mariya give me the advice while cleaning that I have some cavities issue due to that i need filling,and I really really thankful to dr.mariya. Thanks Sabka Dentist .You Guys Rock !

Muhammad Sheikh
15:05 07 Jan 21
Excellent treatment procedure and comfort

Tvisha Shetty
16:01 06 Jan 21
staff is very supportive and they are taking atmost care of patients also taking strict precaution in this pandemic times.

Umesh Nage
12:28 06 Jan 21
Very good checking and suggestions, treatment get satisfaction also Treatment in budget price.

Compcaresolution
07:30 06 Jan 21

नाद फक्त बैलगाड्याचा
14:08 05 Jan 21
Today my wife visited Sabka Dentist clinic and she is not stopping praising Doctor Amrita who treated her. The environment was very good and the doctor was very experienced. Its nice to have such a good doctor in our area. Thanks a lot Doctor Amrita.

Jenu ka naughty Kittu
14:13 04 Jan 21

Roshan Sharma
06:30 04 Jan 21
The best in kamothe...Dr kalyani give us the best suggestion and treatment. Friendly staff also

akhil sasidharan
11:01 02 Jan 21
Good and cordial behaviour of staff and doctor. Clean and well maintained clinic

ravindranathan poliyedath
12:14 01 Jan 21

Rakesh Daphale
11:17 01 Jan 21
The place is good. People are very professional and are following all the COVID guidelines properly.

mp abhiman
11:07 01 Jan 21
The doctor is too good and provided great service. Happy with the service.

vijay shirsat
07:36 29 Dec 20

Ashiwini Shelar
11:49 26 Dec 20
There are no any consulting charges, only need to pay if any treatment.

Amrut Suryavanshi
04:32 26 Dec 20
It's very nice dental clinic it's help to poor people to provide free checkups.

Sumran Paswan
08:28 25 Dec 20

Vaishnav Muraleedharan
13:18 24 Dec 20

Manisha Chougule
10:24 23 Dec 20
I'm happy with mine treatment doctor is very nice and cooperative

Ghanshaym Malkani
11:16 19 Dec 20
Doctors and staff is so polite and professional

Rushikesh Shinde
06:54 19 Dec 20
Great experience at Sabka dentist . The doctor explained each and every problem and the solutions for it calmly and overall friendly atmosphere.covid precautions is also good 👍

Reeya Shaikh
12:27 18 Dec 20
Well sanitised and all the precautions are taken to prevent covid a well maintained & hygiene staff.Overall a good clinic for your oral health.

Ajinkya Navi Mumbiker
06:02 18 Dec 20

MACHCHHINDRA CHAUDHARI
14:17 17 Dec 20
Overall a good experience with the staff and doctors. Necessary precautions are taken by the clinic in the view of current covid situation

Rajdeep Kaur Khaira
09:06 17 Dec 20
Well guidance & good treatment

siddhesh more
13:15 16 Dec 20
Very nice braces treatment

Nisha Nikam
10:37 16 Dec 20
I had a very good experience with the sabka dentist. They did a proper checkup and gave me thorough information about the treatment I need to do. overall it was a great experience and I am happy with my dental treatment

Aakash Rathod
09:36 16 Dec 20
Hygienic clinic, very good dental treatment.

Sanjay Surendran
06:25 16 Dec 20
Good service with good staff..awsum

sana hussain
12:03 15 Dec 20

Akanksha sanas
11:26 15 Dec 20
Dr chirag is excellent in her work helpful and experience staff.

Pankaj Dangat photography
10:17 15 Dec 20
Doctors are friendly , They give a proper treatment . Must good for braces purpose.

Dipika Singh
05:13 13 Dec 20
Helpful Staff, great service

Vinayak Suryavanshi
13:16 12 Dec 20
- i had my rct done 2 yr back at other clinic but i started hving pain again...i visited sabka dentist and dr mahajabin advised me to get a re- rct done as der was a reinfection in teeth....the treatmnt was done very nicely...it was painless and nw i am pain free and quite satisfied with the treatmnt ...the staff is very friendly and it is very safe to visit clinic in these covid times...all protocols r being followed...

Archana Kadam
04:51 11 Dec 20
My kid who is 6 yrs old had all teeth with cavities ....he was very scared to even sit on the chair in the first visit...but dr mahajabin handled him soo nicely...dat he got all his cavities filled and broken teeth extracted....she is very good with kids...i would highly recommend every1 to visit this clinic for kids dental treatment....

Aashish Gaikwad
16:18 10 Dec 20

Pramod Desai
12:49 08 Dec 20

Rashmi Panchal
18:19 07 Dec 20
RECOMMENDED is the only word that comes to my mind. Dr. Anupama came as a savior and brought back my smile. The staff is co-operative and comforting. Visit once and you'll know.

Akshay Kimothi
15:00 07 Dec 20
Good consultant and very nice.

Rahul Ahire
08:11 07 Dec 20
Very good staff and service

Ganesh Jadhav
07:16 07 Dec 20
good consultant and very nice

Megha Dhavale
05:46 07 Dec 20
I had to visit  SABKA Dentist sector 20 Kharghar for my various treatment lasting more than 5 weeks during this pandemic time. The clinic fully complies with the govt guidelines and take care at every step . Anybody can visit without fear.Staff are very polite, courteous  and prompt on their follow up diary.Doctors and on call consultants are very friendly and take utmost care especially Dr. Varsha.The only suggestion: the clinic needs a bigger rooms with more spacious Reception, waiting area and treatment/procedure room.

Suresh Iyer
16:09 05 Dec 20
Excellent service. It was a very good experience. I am highly recommending it to all.I thank all the staff for the very nice treatment and all the staff and doctors are friendly.And the whole treatment is painless so I am very happy

Sanjog Mokal
13:12 05 Dec 20
I have done my rct treatment done here... Dr mahajabin did a painless treatment... I am very happy with it... The clinic is very clean and safe to visit in times of covid with all the necessary precautions taken care of...

Chinmay Durve
12:32 05 Dec 20
I visitedat old panvel for my rct treatment that was good experence and dr. Mahajabin treated me very nicely i am and all staff was very caring so.... I am happy with treatment

Dashrath poshe
12:24 05 Dec 20

Seema Chavan
11:40 05 Dec 20

shravni Dhuri
11:39 05 Dec 20
Dr Chirag is excellent in her work, helpful and experience staff . Happy with treatment good professional approach , proper diagnosing 🤗 Thank you sabka dentist ☺️

Reeya Shaikh
07:56 05 Dec 20
I did crown recementation at the old panvel clinic...it was done very nicely...good treatmnt done here

Mahendra Palvankar
10:36 04 Dec 20
The staff is sweet and cuctomer friendly.All the proper hygiene measures are taken. The dentists are expert.

Aryan Shaikh
03:19 04 Dec 20
Treatment is very good...dr mahajabin explained everything very nicely....I got my rct done here...it was painless....clinic is very clean n hygienic...safe to visit in covid times

mrinmoy das
10:36 03 Dec 20
Very satisfied with the Dental Braces Treatment under Dr. Robin at Sabka Dentist and the professional approach by Doctors and Staff.Post lockdown, my treatment continued at Sabka Dentist Koperkhairane.Good hygiene is maintained in the clinic. Flexible appointments. Glad to receive reminder via call a day before the appointment.Happy to recommend Sabka Dentist to family and friends.

Shyama Nair
08:05 03 Dec 20
During this covid period very good treatment is done with best safety and protection

GouriNath Mahato
06:19 03 Dec 20

paras Bardhe
13:20 02 Dec 20
The staff and doctor were. Very friendly really had good service thanks to Dr. For good treatment without pain

Mahesh Bandkar
12:25 02 Dec 20
Friendly staff and treatment very well done.

vishal pratap singh
07:32 01 Dec 20
Dr.Mariya consulted me.she is very professional and did an amazing job and iam truely satisfied with the service provided.Entire staff was very cooperative and polite.Glad to have done my treatment over here.Treatment is also affordable. It is a very good and hygienic clinic.

Ramapriya Priya
03:46 29 Nov 20
Proper covid measures are taken here.You get Doctor as per appointment given.Dr and staff are friendly and helps you to pass through your pain.The best part is follow up after treatment.

Parth Trivedi
08:43 28 Nov 20
Doctor Amrita and team are very welcoming and friendly,. Provided excellent service, always have a great, smooth experience here and most importantly precaution measures during COVID times are perfect. Highly recommended.

Ajinkya Dixit
13:02 25 Nov 20
My currently treatment is going on...And its is an amazing experience!!!Doctors and staff of sabka dentist is excellent.They all are doing a great job! And also during this pandemic they take safety as there first priority!

The Wizard
12:35 25 Nov 20
Dr. Varsha is very friendly and knows what she is doing, i feel so comfortable with her.. This clinic is very honest towards there work😇

Saumya singh
09:46 24 Nov 20
Great experience, Clean and hygienic center, Excellent treatment,Recommending to family and friends

Prathamesh Doke
20:26 14 Nov 20
Appointment given on phone. No waiting time at the clinic. Proper sanitization procedure followed. Dr. Vishakha performed a tooth extraction. Very professionally done.

Nitin Tabib
08:52 13 Nov 20
Friendly, quick work, overall an amazing clinic!

I am happy to have support and services like sabka dentist teeally appreciated to work and ser

Deepa Pille
08:01 11 Nov 20
वेरी गुड सर्विस नाइस enverment

Ganesh Sawant
08:06 10 Nov 20
Dr.Anupama and her team were a blessing in disguise for me. If i would not been transferred from sabka dentist old panvel, I would not have met such a professional doctor, who treats and makes things understand well. Even her staff priyanka is awesome,proper revert and making proper appointment, incase of change of appt,keeping me informed .It was very good to get treated by such professional team after having a very bad experience from sabka dentist old Panvel. Good wishes and I recommend anyone going through this review you just dont have to think, you are in right hands.

Disha salian
11:42 09 Nov 20
Good Hygenic, quick, Sharp, young, budget Dentist.

shashikant Gadekar
11:53 06 Nov 20
Sabka dentist clinic, doing good job i feel satisfied.

singh sachitanand
08:46 04 Nov 20

Pallavi alugade
11:16 03 Nov 20
In sabka dentist vashi there is so many new system and they take care of her patient so carefully and I like the sabka dentist vashi

Sandeep Chavan
08:01 03 Nov 20
They are taking all the precautions for covid.They give proper time and attention to patient.Satisfied with the treatment.

nitu yadav
11:59 02 Nov 20
Dr Rajeshri was really helpfull she explained me the whole procedure and rates are also quite reasonable. If you are looking for a dentist with no prior experience you should definitely visit this place.

shlok kamble
10:33 02 Nov 20
Excellent treatment and excellent service

KAMAKSHI CHALLAPALLI
05:35 31 Oct 20
Sabka dentist sab se best dentist hai

best technical
11:24 29 Oct 20

sandy pawar
06:39 28 Oct 20
Doctors and all supporting staff at Sabka clinic are very cooperative and helpful.Clinic is very neat and clean.Time Management - SMS messages are sent two days prior to the appointment which is very helpful.All precautions are taken during COVID-19.My son and I are taking Orthodontic Treatment (Braces) and Dr. Ansel is the best.Highly recommended to all.................. Kaushtubha Singh & Raksha Singh

Raksha Singh
07:46 27 Oct 20
My experience at sabka dentist was very good. The doctors who treated on me were good at handling surgery as well as the staff is friendly. The follow up process of the staff is applaudable. M very happy with them. :)

Tishya Shakya
08:49 26 Oct 20
Very nice staff and smily face all staffGood job

Bhavna Visharia
06:54 26 Oct 20
Excellent service by Dr. Rajeshri Bhattacharya,and by the staff thank you for treating patient with full dedication.Hyginic measures taken during this Covid 19 phase by sabka dentist. A really good experience...

Eram Dalvi
10:19 24 Oct 20

Atul Gajbhiye
10:10 24 Oct 20
Very informative and kind , experienced doctor. I recommend to others

Sandip Sawant
07:20 24 Oct 20
I visited this clinic for free check up and cleaning last year. It was done So passionately by Dr Minoo with x rays etc to suggest further action, I ended up purchasing one year family Plan. Since then it became family affair with all the staff there.I got three jobs done here...1. Implants with 3 missing teeth 2. Root Canal 3. Free fillings under the plan..Paisa Vasool.All the jobs done to my full satisfaction.I was very much impressed with the young, dynamic, perfectionist cool Dr Simerjeet, very polite friendly receptionist cum organizer. Wish them ALL the very best in their personal and professional pursuit of excellence.I recommend sab ka densist for their fare pricing also..

bhimsen mohnani
10:01 23 Oct 20
Nice service , Dr and staff are good

Ojaswita G
07:41 23 Oct 20
I have taken the treatment in sabka dentist kamothe. I like the treatment. They were taken good care regarding vivid 19. I like it

Excellent work in covid .Good safety and precautions.

nilesh ingavale
12:28 19 Oct 20
Very cooperative and sinçre doctor and staff.Dr rajshri has very good hand to treat the patient.

Golden galaxy
11:49 19 Oct 20
Good service, Good behavior, Good sanitization, Expert doctor

sunil kumar agrawal
13:04 17 Oct 20
We are regular treated our tooth at Spabka dentist vashi .my self one implan with teeth one root canal and cap done at Sabka dentist Vashi. My wife's fixed half dencher with five implants done at Sabka dentist by Dr SandeepService very goodConsulting very goodHygienically procotion good

Jaswant Khamba
11:53 16 Oct 20
Doctors and staff maintaining quality treatment since years best dentel clinic.

Eliza Pendikon
11:25 16 Oct 20
Doctor treats very nicely , perfect precautions in covid situation. Overall nice experience

Vinit Sinha
06:43 16 Oct 20

Vikrant pandit
18:48 15 Oct 20
Very good service. Very nice doctor👌👌👌👌👌👌

Pramila Rajak
11:15 15 Oct 20
Best service at affordable rates.co operative staff and doctors.

Santosh Maskar
08:27 15 Oct 20
Just started my braces treatment the doctor is very polite and explained everything patiently looking forward for a very smooth treatment ahead.

Ajinkya Chandane
16:48 14 Oct 20
I am visiting Sabka Dentist. And the treatment I got from here is really appreciable. Also the precautions taken in view of Covid protection very fabulous.. Also Dr. Varsha Khadye were very supportive and helpful in explaining the depth of problem and precautions to be taken.. I am very happy with their treatment..

Sudhir Mirgal
10:57 14 Oct 20
Budget-friendly chain of dental clinics.

Very good service. I am happy with my smile. Thanks to Dr Rajshee and all staffs for smooth appointment. Also all precaution against covid is taken well.

Rajbahadur Yadav
09:35 13 Oct 20
Very friendly staff, i have done my RCT treatment from here, Dr. Anupama chaurasiya  is an amazing doctor. Overall a satisfied and good experience."Sabka Dentist".✌️Thanks to Dr. Anupama and All staff

Rajesh Raut
14:37 12 Oct 20
My visit was worth it.I was sanitized completely. Temperature was also taken..Even my oral hygiene was also taken care of...I was explained properly about everything..Would definitely recommend Sabka Dentist. Thank u...

Chandni Hinduja
10:41 12 Oct 20
all precautions were taken during covid time.You feel safe and get treatment done from here.

Anil Narnavar
08:13 10 Oct 20
Well explained by Drs and did proper examination

Ankit yadav
09:51 09 Oct 20
Very nice experience with sabka dentist nerul clinic. Doctor and staff are very cooperative.Neat and clean clinic. Hygienic place.

Ranjana Thakur
09:44 08 Oct 20
What a great experience! I came in with broken tooth with ugly smile., I can't say enough about Dr. Mahajabin and his staff they are so friendly and skillful that my experience for root canal is like a walk in the park! Clinic is proper hygienic and well maintained. I never felt any pain or discomfort during the procedure. I asked so many questions regarding treatment but she calmly replying to my queries. No one tell that I gone through the dental treatment the work she did is artistic. Dr. Mahajabin is Dental Artisan, Yes I can laugh now 😁 Thank You So Much!

Rahul Gaikwad
03:31 08 Oct 20
Good clinic with taking extra covid precautions....Postive environment...

Vaibhav Ugade
03:05 07 Oct 20
The clinic is well hyginenic and the doctor is well understanding...

sabitha ummer
12:53 06 Oct 20

Sanjay Pote
07:20 06 Oct 20
Good treatment with safety ....

Shalaka Mapuskar
12:28 05 Oct 20
Very professional, explained nicely about problem and solution, helping stuff.

Pradeep kumar
07:46 05 Oct 20
Subka Dentist, Nerul is a one-stop solution for all dental problems. I had been there for my teeth Root canel.In my life Today It's first time, I visited dental clinic.The entire procedure went on very smoothly. Dentist was very kind and she made sure that I don't feel the slightest discomfort.

Sachin Kumkar
07:18 05 Oct 20
Great experience, got to know many things of my teeth which can cause problem in future

Amen Rodrigues
13:02 03 Oct 20
Had a great experience with them. Cute receptionist and lovely doctor.

lilavanti senghani
11:15 03 Oct 20
Very genuine service.Well experienced Doctors.Nice appointment scheduling.Best thing is all your doubts will be cleared. Proper guidance will be given on why and how treatment should be done.Thanks a lot for your wonderful support. Keep it up 👍

Ashish Mhatre
11:14 03 Oct 20
It was a very nice experience. I was afraid to go to dentist in this Covid situation but they have take a good care.

Annie Rodrigues
09:58 03 Oct 20
These doctors are wonderful in explaining the process and after extraction precautions. Specifically house doctor Varsha and expert visiting doctor Arpita

Amitendra Nath Sarkar
08:24 03 Oct 20
Thanks doctor Varsha for the support.

Neha Lambate
09:39 02 Oct 20
Awesom experience. Amazing team. Good doctors. Good clinic. I am happy with my daughter treatment done by Dr saurabh pedodontist. Well maintained and hygienic place. All pricaution taken in covid situation.

swati surve
09:17 02 Oct 20

Sajith Jayakumar
12:07 01 Oct 20
The service they provided was very and it also had fruitful results, the doctors and other working staff very polite. I recommend others to visit SABKA DENTIST as they provide a very good service. And even during the time of Covid they maintained all the rules and regulations as instructed by the Govt.

Rohan Chauhan
11:41 01 Oct 20
Good hygienist and doctor address the problems effectively and explain to be understood. Safety is proper

deepti nigudkar
11:05 01 Oct 20
Dr simerjeet definitely knows what she is doing. She explained me the exact procedure and how much sensation i would feel. I had a stress free treatment. She even examined the rest of my teeth. Precaution i should take and exactly what should be done fkr maintenance and overall oral Health.I appreciate her guidance and standard of hygiene maintained.Highly recommended.

Sunita Naik
10:29 01 Oct 20
Excellent service. It was a very good experience. I am highly recommending it to all.

Anup Ingale
08:37 01 Oct 20
Best service at affordable rates. Co operative staff and doctors.

Vidya Bhayani
07:08 01 Oct 20
The clinic was maintained with proper hygiene environment was good.Precautions about COVID 19 Was there full dr were wearing ppe kit.Overall good..nice sttaf

Pooja Angrakhe
07:53 29 Sep 20
Sabka dentist is taking all the precautions in this covid pandemic, staffs are very friendly and they ensure excellent service.

Saima Shaikh
04:53 29 Sep 20
Amazing experience......done my root canal treatment which was absolutely pain free...dr. Anupama and staff are very friendly...they made me comfortable for treatment as i was scared lil bit...reasonable prices...thank u sabka dentist...

Teena Gharat
13:28 28 Sep 20
It is very nice experience doctors are well known about the problems and on the reception are well groomed they attend the patient very well in this pandemic taking proper precautions very well doing their job

Zoya Shaikh
12:32 28 Sep 20
The staff and Doctor were very friendly.Really had good service, Thanks to Dr. for good treatement without anypain

Vanita Kanth
10:14 28 Sep 20
The staff and Doctor were very friendly.Really had good service, Thanks to Dr. for good treatement without anypain

Vanita Kanth
09:54 28 Sep 20
i visited recently sabka dentist clinic docto and staff very helpful i am happy with the treatment

Great..value for money.. amazing and well experienced doctor..very higienic place..

Prashant s
08:15 28 Sep 20
It was good experience with Dr. Varsha mamShe is very polite n humbleshe helps n explain me very clearly about my teeth problem

deepika sharma
07:12 28 Sep 20
I am glad to set this pace as I connect with Sabkadentist, Nerul East for my alignment and consultancies.A huge thanks to Doctor Mariya, she is excellent at the Job, passionate, encouraging and lively. She has upgraded my smile to first class...lolz.My regards also to the team: Swati and Sunita. They are the best co-workers for SabkaNerul. You guys are good. They take all covid-19 prevention protocol very seriously.I am sure coming for my alignment arrangements and the aligners.Thumb up!Israel(Nigeria)

Israel Ameh
08:49 27 Sep 20
Friendly staff and dentist

Kartik Barange
13:26 26 Sep 20
Prompt service with care and necessary precautions observed .

Balkrishna Shirgaonkar
12:41 26 Sep 20

Atharva Vasant
12:34 26 Sep 20
The clinic was maintained with proper hygiene environment was good.Precautions about COVID 19 Was there full dr were wearing ppe kit.Overall good..

jyostna gurav
12:26 26 Sep 20
Excellent,Superb ,Good & Hygienic

Shweta Krishnamola
10:58 26 Sep 20
Helpfull staff, good treatment with all precautions taken

samit zade
10:37 26 Sep 20
Good consultation experience with Dr Simarjeet and the staff has been taking very good care of hygiene during covid pandemic.

Nikita Kandikatla
10:18 26 Sep 20
I visited recently at sabka dentist old panvel the doctor are very caring and staff is very good and well behaved I am happy with my treatment.

Haresh Kori
09:56 26 Sep 20
Nice experience with good treatment

SM GLOBAL LOGISTICS
09:34 26 Sep 20
Always have a great, smooth experience here.

Sameer Ambre
07:45 26 Sep 20
Good work and good chekingI am happy nice job

Sandeep Dhole
07:31 26 Sep 20
Hygiene clinic , good service, knowledge able doctor.

ankita sakhare
12:28 25 Sep 20
Friendly staff and friendly Doctors clinic well sanitized they use all the safety gears to protect from covid-19.

abhijeet Thube
11:19 25 Sep 20
Clean and hygiene clinic. Friendly environment.Good first experience

chandrabhan kumkar
08:15 25 Sep 20
The staff nd service wer excellent.Proper covid-19 safety measures wer taken.😄😄😄Happy with the service.😄

Sakina Hararwala
07:24 25 Sep 20
Doctors and staff maintaining quality treatment since years.Best "DENTEL CLINIC"

Gauri Jadhav
06:45 25 Sep 20
Excellent service by Dr. Rajeshri Bhattacharya,and the all staff thank you for treatment patient with full dedication.Hyginic measures taken during this Covid 19 phase by sabka dentist. A really good experience...

YASH GHADAGE
13:42 24 Sep 20
Clinic is total clean and is managed well during this pandemic too. You can visit the clinic without any hesitation or getting scared of this pandemic because its total hygeine. Staff members are too supportive and polite.

Pooja Angrakhe
13:21 24 Sep 20
This is very patient friendly place for dental treatment

shravni Dhuri
13:18 24 Sep 20
I must say, you all need to visit here, very helpful staff with specialize service, with quick responce.Highly recommend 👍

Sumedh Kamble
13:15 24 Sep 20
Good experience with the treatment.

Siddharth Pawar
12:34 24 Sep 20
Since six years we are visiting Sabka Dentist sec20 Kharghar....the clinic is very hygenic and well maitained....the staff is also very friendly....good measures are taken for Corona virus.....we are highly satisfied with Dr.Varsha....she is a very good doctor....and her treatment is good...

Shagufta Mapkar
12:30 24 Sep 20

Varsha Chavan
12:21 24 Sep 20
Wonderful serviceNice job ....

Shantaram Kambale
12:19 24 Sep 20
My mom had painful gums so i visited sabka dentist. Staff here are really good well maintained clinic during this covid time. Would definitely recommend this clinic.

Sushma Singh
11:38 24 Sep 20
Neat and clean clinic.nerul clinic maintain good services and top most hygiene and sanitation in covid situation.

Sunita Dhotre
11:10 24 Sep 20
Very good and friendly professional in their work

Shrikant Kumare
11:02 24 Sep 20
Very good good staff and very friendly Nice palce

Ved Nawale
10:10 24 Sep 20
2 weeks agoI was quiet impressed with the hygienic measures taken during this Covid 19 phase by Sabka dentist Vashi

Vanita Kanth
07:00 24 Sep 20
Doctors are very excellent... having great communication of the available staffs...very good treatment...it's affordable price....grt experience

Nivedita Shinde
06:59 24 Sep 20
I have done my denture and cap treatment from the clinic. The services they render are excellent safe and they ensure a friendly atmosphere.

Harbinder Mann
11:31 23 Sep 20
Very nice and clean clinicHygiene maintainsCovid 19 prevention taken.

Rajkumar Lal
10:57 23 Sep 20
What makes this place stand out is the very helpful and friendly staff. Very professional treatment, and thoughtful and precise scheduling that cuts down wait times.Of course, they also follow rigorous anti-COVID procedures.

S Unnikrishnan Nair
08:20 23 Sep 20
Good service excellent doctor and staff cooperating and effective result

Excellent service . All covid 19 prevention taken .

Dr. Amrita did a great job and performed my root canal nicely. The staff was very co-operative and took utmost care and safety to safeguard and prevention against covid-19.

Fexria Dias
13:43 21 Sep 20
Dr. Is very kind and helpful towards the patient,Other staff members are also good... gives you a proper consultation... good experience...

susmita desai
14:12 17 Sep 20
This is very patient friendly place..for dental treatment

Vikram Jadhav
09:22 17 Sep 20

Rob Wrangler
07:36 17 Sep 20
It was amazing experience with dr anupama mam.Staff behaviour is also very satisfied.Amazing 😁

Saifan khatib
05:18 17 Sep 20
Excellent service and very affordable.

Anshu Dasgupta
09:55 16 Sep 20
Amazing service, for them I would rate 5 stars ⭐️ ⭐️⭐️⭐️⭐️. Dr Anupama chaurasiya and their staffs are friendly and they'll comfort you. Had really great experience so would definitely suggest them. Also during this pandemic they are providing services with all safety measures and Cleanliness. Definitely Go for it ✌️

Puja Jagtap
06:29 14 Sep 20
Good checking .l am happy with treatment.

Garima Mishra
11:41 12 Sep 20
Nice facilities & good experience...

Sita Kumari
09:23 12 Sep 20
Its nice treatment. and 1free checkup is very nice.

Amol Bhilare
06:23 12 Sep 20
Very Nice Clinic ..dr.& others Staff is active.

sanjay dhuri
18:30 11 Sep 20
Always have a good experience. The staffs are very friendly and polite. Treatment is also done smoothly. The dentist is very good. Happy experience🙂

Gitika Lakhera
12:02 11 Sep 20

Nilima Halder
11:06 11 Sep 20

Farnaz Jamadar
09:20 11 Sep 20

Every time I visited clinic my experience was great. Proper hygine, well maintained clinic and professional staff are the attributes of this place.All the precautions were taken during this pandamic situation. Overall really good experience.Highly recommended to all.

sachin anandrao
12:44 10 Sep 20
I visited sabka dentist resently my experence very good,doctor and staff Is very good.

Vinod Kumbhar
07:54 10 Sep 20
Excellent. Happy with treatment.

vaibhav mestri
13:33 09 Sep 20
Very good doctors, treatment and overall experience, maintaining the quality treatment since years

Tanmay Shinde
12:57 09 Sep 20
Good hygienist and doctor address the problems effectively and explain to be understood

Sunita Wankhade
12:22 09 Sep 20

sandip chaudhari
11:34 09 Sep 20
Good place for the dental treatment and good service

Daivata Jadhav
11:06 09 Sep 20
A really good experience, Doctors are excellent n very helpfull...

Rakesh Jadhav
10:50 09 Sep 20
My experience is good I feel comfortable during the treatment.

Aarohi Singh
06:20 09 Sep 20

dipak Kalel
06:11 09 Sep 20

Praveen Jaisavar
06:08 09 Sep 20
Dr.amruta is excellent in her work..very family oriented atmosphere in clinic.must visit dental place in kamothe..big thumps up...😀😀😀

Ajay Dubal
13:57 08 Sep 20
I have visited once and I am impressed by the service and staff,I observed the receptionist she's very Frank and she took care of my health safety during covid. Thank You So Much!

Sana Patel
13:04 08 Sep 20
In this pandemic situation I found this better clinic for treatment.They taking full care of social distance.My personal experience was too good👌

akash pandey
13:04 08 Sep 20
Sabka dentist is taking all the precautions in covid,Staffs are friendly,Consultation is free ,Clean and hygienic environment

Adil Amaan Khan
12:53 08 Sep 20
Nice facility and staff are also nice

Kaushal Patkar
12:46 08 Sep 20
I was quiet impressed with the hygienic measures taken during this Covid 19 phase by Sabka Dentist. Special mention for Dr Rajeshri Bhattacharya, Dr Irfan and the support staff for an extremely caring and hastle free treatment. I would recommend everyone to visit them.

Yatinkumar Dhatrak
11:30 08 Sep 20
i had a lot of pain in my teeth...so i visited sabka dentist...The Dr is very helpful and she explained me very nicely in detail about the entire treatment and i got a rct done at that clinic...the staff is very good and friendly....treatment was seamless n painless...will recommend every1 to come here for any dental related issues.

Visited the clinic last month due to pain in tooth. got good suggestion from Dr. Mahajabin regarding to save my tooth. No pain and had root canal. Good facilities and treatment.

Taufiq Ahmed
07:16 08 Sep 20
The clinic is very hygienic and safe for treatment.I would recommend everyone for a visit here every 6 months.

Mahajabin Raeen
07:14 08 Sep 20

Kajal Dhuri
06:46 02 Sep 20
Hassle free and smooth experience. Would recommend to a friend

pratik purohit
05:00 29 Aug 20
Good experience...and good treatment.

Deepika Gawde
10:02 27 Aug 20
Treatment done nicely happy with results

Good place for dental treatment. I had done RCT sabka dentist new panvel.Dr.Anupama & Dr Monika staff is behaviour Politely.Receptionist Miss Priyanka is also very good treat.I recommend this place for dental treatment.But the fee seems highly....by the way all r goodNow even during the time of COVID-19, the whole world is troubled by this virus.I really liked keeping her Protection Self as Patient,Whatever I will say, the less their feedback, the better treatment Here, along with any problem solving.Thank you sbka doctor.

The staff is good and catered well to my mother's requirement.

Dr. Ujjyani Sengupta
11:24 18 Aug 20
Good Professional Approach, Proper diagnosing & Treatment given... I am happy

Kurian Joy
09:43 14 Aug 20
Good service. Helpful and experienced staff.

Joanita Gonsalves
09:10 14 Aug 20
All staff service is poliet and nice treatment.

Salman Ansari
12:27 13 Aug 20
Hygiene maintained is very good. Sanitisation was properly done. Very good experience during Pandemic. Well behaved & well mannered Staff.

Chitra Patil
10:16 05 Aug 20
working staff and doctor are polite and very Hygiene clinic

Pritee Warang
06:55 05 Aug 20

Amit Sonawane
06:33 05 Aug 20
Sabka Dentist Panvel, is one of its kind. The service, the doctors, the easy EMI facility and some cool offers also free clean up offers. Overall it has been really nice experience. Staff is really warm and welcoming and friendly. I would definitely recommend this one over general dentist.

Nikhil Vetam
10:45 04 Aug 20
Well cooperative and result oriented plus positive thinking staff and doctor. Since last 7 years I have been here starting from kharghar clinic.

Very nice and transparent service. Good quality of techniques used. Doctors and staff very friendly. I would like to give five star ratings

vijay bhamere
04:17 01 Aug 20
My experience with Sabka dentist, New panvel has been good so far. It's been more then 4 years now I have visited 4-5 times. The staff starting from the Receptionist, Helper till the Dentist Doctors all give you brilliant treatment. The doctors especially they study your case properly and give you a proper solution for the same. I thank Dr. Anupama & Dr. Chaurasia for the same.They maintain a history which gives a proper insight to their past patients.Reminders for the appointments are very well maintained too. On personal level I have done the cleaning twice, at once I had a birthday offer for which I got basic cleaning at free cost, I thank them for that.The other treatment for which I consulted them recently during this Covid era, they have maintained a proper hygiene norms, with proper forms signed.I recommend them to all the Customers, value for time and money.

Suhas Jadhav
13:59 29 Jul 20
New number: +919372734051I thought the clinic was closed because I couldn't reach the number of the clinic. But i tried contacting the customer service and got myself an appointment.Really helpful staff & they're also following all the precautions to curb any kind of infection or virus.

Gagandeep chadda
15:16 28 Jul 20
Today I had an appointment with Sabka Dentist, Vashi.I had a hunch before visiting them due to COVID-19.Now that I visited, I would say it is safe to visit them as they suffice all the measures and precautions required for the same. And as always I'm ecstatic with their service. I've been visiting them since last 3 years and I've been always reassured after the visit.Thanks to Dr.Rahul and your friendly staff for always helping happily.

Sakshi Bankhele
11:31 28 Jul 20
Service is perfect doctors are great overall 5 star ❤️ thanks for making my smile perfect😀

prince rathod
06:18 28 Jul 20
After lockdown it was first session and they are keeping very good precautions and hygiene. Thanks for the service.

Vikram Harke
09:35 23 Jul 20
I went to 'Sabka Dentist' at Sanpada for denture or implantation. They are maintaining all the rules and regulations of government. They are using sanitizer at each and every space. Their way of consultation were very well and priceless. I am very impressed.

Sudha Baid
10:40 22 Jul 20
Very comfortable n friendly ..N also Dr.Amrita Jha n Dr.Vineet r best n they provide best option for our tooth. Thanks to both. Only thing is it's bit expensive but that's management issue/order.I would suggest becoz of doctor n staff...ms prachi who is very soft spoken n make u feel comfortable especially who r afraid of dentist..

Bimla Joshi
15:56 21 Jul 20
The Nerul clinic has been maintaining top most hygiene from sanitation, temp check to using hand sanitizer for doctors staff and patients. The patients visiting are given a disposable foot cover and made to wash hands with hadwash and gargle mouth with betadine.Note to clinic: patients need to be informed if any changes in appointment or issues.

Prateek Jadhav
12:33 18 Jul 20

Abdul Ahad Qureshi
13:02 16 Jul 20
Clinic is total clean and is managed well during this pandemic too. You can visit the clinic without any hesitation or getting scared of this pandemic because its total hygeine. Staff members are too supportive and polite.

Suraj Ambre
11:50 15 Jul 20
Very professional service

Pankaj Bhardwaj
13:18 06 Jul 20
I have been taking treatment from sabka dentist since a year I'm having a great experience untill now the facility service is good especially doctor's are very professional and awesome do visit it....

Vaishali Jagdale
11:49 05 Jun 20

sanjay das
06:20 18 Mar 20
Clinic and service provider both are very good and hygiene to

trishna pal
14:45 16 Mar 20
Best clinic, visited for the second time...

Dr. Shraddha did Treatment & it was done well. Guided properly during the process.

Sachin Salokhe
13:23 16 Mar 20
Quick service and gentle considerations.

sakina merchant
13:21 16 Mar 20
I hate going to the dentist as it is never a fun experience for me. Everyone is here is so nice and welcoming. The dentist is very kind and thorough with his explanations. The staff was members were all super friendly and reassuring. I am actually feeling much less stressed about my next appointments. Thanks to Subka Dentist 😊

Nitesh Hodabe
16:16 14 Mar 20

Sushil mahto
07:57 14 Mar 20
Good experience. Very good options

Subramanyam Durgavarjhula
14:53 13 Mar 20

SILENT GAMERS
12:58 13 Mar 20

jay electrician
13:23 11 Mar 20
Best treatment to that Place Sab Ka Dentist

Manju Makhija
12:07 11 Mar 20

bharat negandhi
12:13 09 Mar 20

Mukesh Biswal
06:57 09 Mar 20
Doctor is an expert in the job and staff are well trained and polite. Good hygiene standards in the clinic!!

vrunda chavda
16:47 07 Mar 20
Friendly and professional

sahil shekh
14:50 07 Mar 20
A really good experience, Doctors are excellent n very helpfull... Plz do visit I would recommend this

Dev Dhawan
09:58 07 Mar 20

Ammu's Vlogs
18:49 06 Mar 20

rushikesh vedak
15:11 06 Mar 20

vijay ambure
08:13 06 Mar 20
It was a good experience overall. My problem has been solved.

Abhimannue Chandrababu
11:19 05 Mar 20
Nice staff and friendly treatment

srinivas gajam
15:11 04 Mar 20
The doctor was polite and patient to answer all my queries. The clinic is clean n hygienic .

mansi mishra
14:17 04 Mar 20
डॉ. श्रद्धा खूप छान आहेत , खूपच समजदार आणि काळजी घेणाऱ्या. आणि पेशंटचा प्रॉब्लेम समजून घेतात.. I m giving 5 🌟 only for Dr. Sharaddha. Thanks.

Vijeyata Joshi
11:10 04 Mar 20

Rani Bhise
07:51 04 Mar 20
Nice clinic and staff is very good

supriya mhatre
07:19 04 Mar 20
The staff and Doctor were very friendly.Really had good service, Thanks to Dr. for good treatement without anypain :). I choose for cleaning option in offer , and I fully satisfied, she removed my calculus within 5 to 10 minutes ,my mouth really feels very clean, one sitting is balance, Overall i really had a very good experience . Highly recommend this dental

Mayur Patil
11:14 03 Mar 20
Very nice and satisfied treatment,

Chandrakant Mahamulkar
10:13 03 Mar 20

Komal Shinde
07:13 03 Mar 20
Hi I'm done treatment of pro cloning of teethDone by dr. Hepsiba it was excellent service and treatment and nice experience. 😊😊😊😊filling happy thanks doc .

Varsha Yadav
14:40 02 Mar 20
I have done my checkup.. Its good.. Dr hepsiba is so good and She explains me everything very well and (Sakshi- receptionist) thank you so much for helping from call center people. .I will suggest my frnd and family about sabka dentist..!!!!!!

Swapnil Shekar
13:06 02 Mar 20
Good job for sabka dentist

Vinayak Patil
12:04 02 Mar 20

Suresh Mandekar
11:48 02 Mar 20

Shubha Ingale
11:20 02 Mar 20

Milind Agane
09:41 02 Mar 20
It was a nice experience.

Pooja Shambharkar
07:31 01 Mar 20
Sabka dentist service Good and all staff always good😊👍

Sulaiman Mohammed
17:51 29 Feb 20
Dr. Varsha is an expert and very knowledgeable.Her way of treatment was best.

Pooja Jadhav
15:24 29 Feb 20

Sachin Kambli
13:55 29 Feb 20
Treatment is very much satisfactory. Good recommendations and suggestions given by doctors.

I underwent a root canal treatment by Dr. Nikki and she has done a wonderful job. It was quite painless and she also continuously followed up with me after each session. Overall, it is a very hygienic clinic and the dentists along with the dental assistants create a very friendly atmosphere here. Definitely recommended!

Shyam Menon
08:17 29 Feb 20
Great experience, fast service of good quality

Maansi Kalyan
06:26 29 Feb 20
Caring Dr. Amrita Jha with lots of patience and true guidance. Thank you so much. Clean clinic and helpful staff. Best of luck

Madhuri Kambli
14:46 28 Feb 20
Dentists at Sabka Dentist are very Cordial and make the patient calm and comfortable, especially those who are visiting dentist for the first time. Also, they give utmost correct treatment for the patient.

Shweta Verma
14:31 28 Feb 20
Very professional work by Dr. Nikky Singh.

Chandra Pandey
13:13 28 Feb 20

A Google User
10:37 28 Feb 20

Neeta Naik
07:46 28 Feb 20
Very professional and gentle staff. Got my front teeth filled, Dr Amrita has completely changed my smile. I cannot make out the difference between my natural teeth and filling it looks so real.I was always reminded of my appointments by their receptionist, the support staff is very good. Would definitely recommend sabka dentist kamothe as they give you detailed consultation and quotation without even charging you anything.

A Google User
18:12 27 Feb 20
staff was coordinative and well trainned .Doctors are professional and proper treatment given.had a good experience

A Google User
14:07 27 Feb 20
Really good and experienced team. They are really genuine.

Ravi Kumar
13:23 27 Feb 20
Doctors and all staff is very friendly and treatment is also good.

rahul dhaigude
07:40 27 Feb 20
Had wonderful experience all thnx to Dr. Nikky😘

Vinita Agarwal
07:37 27 Feb 20
Wonderful service, very professional. Doctors are experienced, clinic is very neat and tidy. Will go there again

Shivam Saxena
07:35 27 Feb 20
Overall great experience... The Dr. Saba Knows her work and treats patient with full dedication. The staff is also kind. Overall good experience, highly recommend.


suraj poojary
13:36 26 Feb 20
I Am getting treated from Dr.Nikki of your Sabka Dentist,Kharghar Branch of sector - 20...Must say & appreciate the fact that she is really doing a wonderful job and I am extremely satisfied..Thanks & God Bless her profession..👍🙌

Ankoo Kohli
12:41 26 Feb 20
Very good Experience in Kamothe clinic supportable staff. Will surely recommend sabka dentist.

A Google User
12:27 26 Feb 20
Dr. is good and so friendly. I feel so comfortable with her and talking about my problems.

A Google User
10:34 26 Feb 20
It was good experience here... Staff was very knowledgeable and friendly..

Rahul Desai
08:21 26 Feb 20
Good Experience and got it done as per Appointment scheduled

Santosh Nidagundi
07:48 26 Feb 20

A Google User
14:36 25 Feb 20
Really good service! The staff and Drs were very friendly. Thanks to Dr. Kalyani for her amazing job. Highly recommend.

A Google User
13:52 25 Feb 20

Zarina Meman
11:08 25 Feb 20
Really good service! The staff and Drs were very friendly. Thanks to Dr. Ruchi for her amazing job. Highly recommend this dental😊.

A Google User
10:11 25 Feb 20

A Google User
09:20 25 Feb 20

A Google User
07:43 25 Feb 20
Loved treatment here. Good consultation by Dr Kalyani

A Google User
07:40 25 Feb 20
Really appreciate the gestureof Sakshi(receptionist) and consultation byDr. Hapsiba. They provide a genuine consultation but the treatment charges are slightly higher

palak kumar
13:03 24 Feb 20
Satisfied with doctor treatment and staff of sabka dentist

dilip ridh
12:19 24 Feb 20
Dentists here treat the patient with concern and have in depth knowledge. I was enlightened with keeping abreast with dental heath maintenance for long term sustainability of teeth. Good pricing as well.

Vineeth More
11:28 24 Feb 20
Good Experience.Corteous staff and good dentists.

Pranoy Pyne
07:42 24 Feb 20
I have braces treatment going on and the results are good so far. The staff and dentists are very friendly . I gotta say if you're looking for a nice clinic then this is your place people. You guys should really check out their clinic.

crazy world
06:54 24 Feb 20

Madhuri Ramane
14:26 21 Feb 20
ExcellentTnks sakshi(rep)Dr.hepsiba

Anjali Jaiswal
09:56 21 Feb 20
Very helpful !! Do visit !!!

Uddipta Dutta
15:22 20 Feb 20
Had a great e experience with Dr.Priya!!

rajdeep pal
15:07 20 Feb 20
Nice Hospital for Dental Check up with co operative and understandable staff.

Suraj Adhikari
07:14 20 Feb 20
Dr. Hepsiba ..she is very polite and very talented doctor ....and there staff is very awesome

KAVITA SHELAR
13:25 19 Feb 20
I have been visiting Sabka Dentist, Nerul since past 3.5 years for my Ortho treatment. Though the treatment is taking longer than expected, the Doctor is quite patient and trying his best to finish the treatment at the earliest.My entire family has had their part of treatments here too.Highly recommended for ortho treatments👍🏻

Priyanka Joshi
12:23 19 Feb 20

Manohar Singh
09:30 19 Feb 20

Govardhan Patil
07:19 19 Feb 20
Done it first time.Very good experience.Wonderful doctors and staff.

vikas deep singh
15:11 18 Feb 20

hari om sweets
11:48 18 Feb 20
Prompt service, considered medical history of patient, treatment and advice with respect to holistic health condition

rajib lochan mishra
10:31 18 Feb 20
I just got cleaning done and I am very happy with the service. They also examined other dental issues I had, doctors responded to all my queries and gave me a great quotation that fits my budget.

It was wonderful to get cleaned my teeth and staff are wonderful and corporative . I must suggest to visit here for teeth problem. Representative is very helpful and dr vishaka done a wonderful job.

Pushpraj Singh
14:39 17 Feb 20
Painless treatment given by the doctor

Kiraj Choudhari
12:59 17 Feb 20

Nazish Dalvi
07:51 17 Feb 20
I recently moved to Kharghar and needed to find a new dentist and I was a little nervous because I had some less than great experiences with other dentists in the past. Dr. Varsha turned out to be fantastic. She answered every question I had and has been very accommodating and easy to work with. Unlike other places I've been, And I have to say, the results of my treatment have been fantastic so far - I finally feel like I can smile without being embarrassed again! If you need a dentist, I wouldn't hesitate to call Sabka Dentist - They are awesome!

Santosh Ku Pati
07:46 17 Feb 20
Highly qualified & professional doctorsNice location; easy & convenient .

Sopan Surve
06:59 16 Feb 20
Nice clinic & staff is good

Amol Surve
06:52 16 Feb 20
Dr Trupti is truly experienced in her work. I am satisfied with her services. Keep it up.

jikahyel musa
11:22 15 Feb 20
Reception(sakshi) treated me wellDr (Hepsiba)explained me well about the treatmentClinic is well managed

Pritesh Gavhane
10:16 15 Feb 20

A Google User
09:58 15 Feb 20

A Google User
09:45 15 Feb 20
Good and timely treatment.

Krishna Kumar Singh
11:41 14 Feb 20
My name is akshay Shelar. My root canal and cap fixing treatment done by Dr. Amrita."Very good service very co operative and good doctor and staff."

A Google User
10:30 14 Feb 20

A Google User
09:45 14 Feb 20

Dinesh Shinde
15:32 13 Feb 20
Was a nice place to visit for my teeth first time cleaning done happy with the consultation

Nice service. Must visit. Quite knowledgeable Doctor Hepsiba.

jigar modi
15:00 12 Feb 20
Nice treatment and good staff

Ramesh Kamalkar
14:50 12 Feb 20