Pediatric Dentistry in HSR Layout

What is a Pediatric Dentist?
The Pediatric Dentists are committed for providing an appropriate treatment plan to maintain good oral health for infants, children and adolescents. To do this, they need to complete a bachelorette degree of four years and then two additional years of residency training in dentistry for infants, children, teenagers and children who require special needs.
Sabka Dentist considers all these factors while selecting the pediatric dentist. So, if you are in search of the best pediatric dentist in HSR layout, Sabka Dentist should be on the top of your list.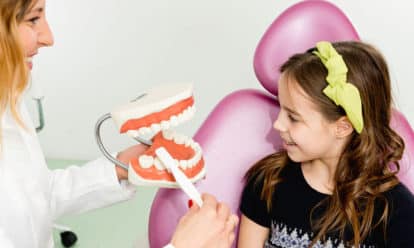 A child must be under dental check-up from 1 year when they start getting their permanent teeth. Without proper dental care, a child may experience lifetime complications and may end up developing some infectious oral disease.
It is obvious that different children will require different treatment plans which only an experienced pediatric dentist in HSR layout can assess. Hence, if you are in search of a kid's dentist in HSR Layout who can take good care of child's teeth, gum and mouth then Sabka Dentist would be the best choice.
Common Pediatric Dental Procedures
Sabka Dentist offers a wide range of treatment options to treat certain conditions that are related to the child's teeth, gum, and oral health. So, the following are some of the most common pediatric dental procedures-
X-Rays – X-ray is a very common dental procedure that is performed to know about any weakness in the tooth structure. Children prone to tooth decay are recommended to undergo an x-ray procedure every six months to track the condition of the tooth root as that will not be visible with the naked eye.
Dental cleaning – A dental cleaning procedure involves checking the medical history and oral health condition of their patients. Typically, in this procedure, the dentist removes the plaque and tartar layer from the surface of the teeth that may prevent your child's teeth from the formation of cavities and gum diseases.
Fluoride treatment – The fluoride treatment basically involves the remineralization of the weakened tooth enamel that may end up being a dental cavity. There is an exact amount of fluoride that is decided at Sabka Dentist by the kid's dentist.
Dental crowns – Dental crowns are dental caps that are used to restore a decayed, damaged or injured back tooth. If a decayed back tooth is left untreated then it may cause intense damage to the tooth enamel and the tooth root. In such cases, a pediatric dentist may choose to use a stainless-steel dental crown to the tooth surface to prevent further damage.
Dental fillings – A tooth-coloured dental filling is used to restore a decayed tooth where achieving a good cosmetic appearance is very important. The colour of the dental filling is matched as closely as possible to achieve the best natural look.
Sealants – Often teeth develop pits and grooves on its surfaces that form a cavity. To prevent extensive teeth damage, the pediatric dentists may choose to use a thin dental sealant coating on the tooth surface to cover up the pits and fissures and prevent teeth from decaying.
Space maintainers – Space maintainers are a dental appliance that is used to hold space for developing teeth. If this space is not maintained then there are chances that the permanent teeth on the extraction site may not get space for eruption and that may result in a bad bite structure.
Interceptive orthodontic treatment – Children who are suspected with a bad bite mark, crooked jaw or overcrowded teeth may need to undergo orthodontic treatment. According to some pediatric dentists, children undergoing orthodontic treatment during the developmental phase will experience a maximum change in minimum time.
So, if you are looking out for Kid's dentist in HSR Layout for any of the above treatment, Sabka Dentist clinic will be able to help you out with the best treatment for your child.
How to Choose a Pediatric Dentist
Choosing a pediatric dentist can be tough because there are a lot of things that need to be considered. Educational qualification and experience are one of them. This matters because the selected pediatric dentist will be taking care of your loved one's oral health.
So before setting up an appointment with the dentist, it is important to get a clear idea of the dentist's experience, qualification and reputation. You must also make sure that your child feels comfortable with the dentist and the staff present in the clinic.
If you as a parent have some doubts about anything then do not hesitate to ask questions. It is very crucial for parents to understand every aspect of their child's dental health and know which treatment option will be perfect for them.
However, if you want to select a pediatric dentist in HSR Layout who can take proper care of your child, then Sabka Dentist is the best clinic for all your dental problems
Why Select Sabka Dentist?
Sabka Dentist is one of the best dental clinics in India that provides the best treatment procedure at the most pocket-friendly rate. The clinic maintains a high standard and utilizes the latest upgraded technologies that make most of the dental procedures pain-free.
The dentists of Sabka Dentists are selected based on their qualifications and experiences. They always keep themselves updated with the latest technology by attending different training sessions to provide a painless procedure to their patients.
Dr. Jena Shah Dental Director of Sabka dentist says "Dental checkups are important to maintain good oral hygiene and a disease-free mouth"
Dr. Zita Antao Dental Director of Sabka dentist says "It is recommended that everyone should get a dental checkup done once every 6 months
"
Dr. Rupali Gujar Dental Director of Sabka dentist says "A dental checkup is a two-step process that includes evaluation of oral tissues followed by cleaning and polishing."